Yoga Mama
This class is taught by: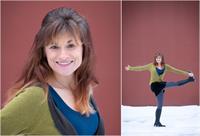 Yoga: the healthy habit! One class and you're hooked––in a good way. It tends to pull us into a healthier lifestyle. It's not just the exercise, though, it's the better breathing, clearer thinking, and more balanced emotions. In '95, my first class made all the difference in my life. Then in '05, wanting to delve deeper, I studied at Samadhi Yoga in Seattle, where I finally accepted that "ohm" wasn't weird. I delved into the ancient texts, and modern ones too, about the art, science, and philosophy of yoga, and attempt to apply it "off the mat"––practice, practice, practice. In my classes, I strive to create an environment where everyone has the freedom to explore the space in their body, heart, and mind. And I usually conclude class with an inspirational reading.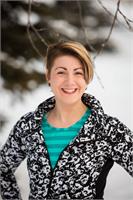 Growing up in Alaska I have always enjoyed the outdoors and the adventure of living in this great state. Snowboarding is one of my passions. After breaking my pelvis in three places while snowboarding in 2003, I became interested in yoga as part of my rehabilitation. Immediately I was opened up to a world that forever changed my life. I began Hatha and Anusara teacher training in 2012 with Karen Greenwood at Inner Dance, and I am forever invested as a student. My goal is to share the ten years of education and knowledge that has been passed on to me in this great community. My educational back ground includes; Certified 1st degree Black Belt in Tae Kwon Do. I am also a Certified Hatha Yoga Instructor; 200 hr Yoga Alliance RYT. Currently I am studying at the University of Alaska Anchorage; Bachelor of Science: Major in Health and Group Fitness, Minor in Athletic Training and Nutrition.
(prenatal) Designed to nourish the body and soul during pregnancy, expectant mothers will use the principles of mind/body awareness to gain physical and mental strength to help you on your journey. Prenatal yoga can help relieve stress and physical discomfort, improve circulation, aid in digestion and create an overall feeling of well being. You will also find a warm supportive space to connect with other expectant moms. Yoga Mama is based on a Vinyasa template whereas Yoga Mama Gentle is based on a Gentle yoga class. (80°)
Upcoming classes:
Wed

Oct 18 5:15 pm - 6:30 pm

with

Stefanie

Tatalias




Sat

Oct 21 1:00 pm - 2:15 pm

with

Andrea

Boyette




Wed

Oct 25 5:15 pm - 6:30 pm

with

Stefanie

Tatalias




Sat

Oct 28 1:00 pm - 2:15 pm

with

Andrea

Boyette




Wed

Nov 01 5:15 pm - 6:30 pm

with

Stefanie

Tatalias




Sat

Nov 04 1:00 pm - 2:15 pm

with

Andrea

Boyette




Wed

Nov 08 5:15 pm - 6:30 pm

with

Stefanie

Tatalias




Sat

Nov 11 1:00 pm - 2:15 pm

with

Andrea

Boyette




Wed

Nov 15 5:15 pm - 6:30 pm

with

Stefanie

Tatalias




Sat

Nov 18 1:00 pm - 2:15 pm

with

Andrea

Boyette




Wed

Nov 22 5:15 pm - 6:30 pm

with

Stefanie

Tatalias




Sat

Nov 25 1:00 pm - 2:15 pm

with

Andrea

Boyette




Wed

Nov 29 5:15 pm - 6:30 pm

with

Stefanie

Tatalias




Sat

Dec 02 1:00 pm - 2:15 pm

with

Andrea

Boyette




Wed

Dec 06 5:15 pm - 6:30 pm

with

Stefanie

Tatalias




Sat

Dec 09 1:00 pm - 2:15 pm

with

Andrea

Boyette




Wed

Dec 13 5:15 pm - 6:30 pm

with

Stefanie

Tatalias




Sat

Dec 16 1:00 pm - 2:15 pm

with

Andrea

Boyette




Wed

Dec 20 5:15 pm - 6:30 pm

with

Stefanie

Tatalias




Sat

Dec 23 1:00 pm - 2:15 pm

with

Andrea

Boyette