Hot Yoga
This class is taught by: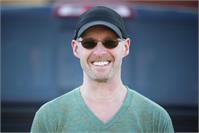 Rick is one of Alaska's most recognizable yoga teachers, with over 20 years of teaching experience. He first certified with Bikram Choudhury in 1996. He has since trained with teachers as diverse as Sonia Sumar (Yoga for the Special Needs Child) to Jimmy Barkan (Barkan Method of Hot Yoga) appreciating the commonality in thoughts, in language, and in spirit. Rick believes that Yoga works to strengthen all aspects of ourselves. " With dedication to our practice we find the pathways to physical health, mental clarity and emotional stability, but it is not without work."
(all levels) Similar to our Hot 26 class, Hot Yoga turns down the heat a touch and adds a little flow between sets of standing poses. If you are looking to step outside the same routine of Hot26, this is the class for you. A Hot Yoga practice brings better health, mental clarity, builds strength, flexibility, and endurance to anyone willing to work hard in our supportive environment. The temperature in this class is 100°.
Upcoming classes:
Wed

Dec 13 6:30 pm - 7:45 pm

with

Rick

Resnick




Wed

Dec 20 6:30 pm - 7:45 pm

with

Rick

Resnick




Wed

Dec 27 6:30 pm - 7:45 pm

with

Rick

Resnick




Wed

Jan 03 6:30 pm - 7:45 pm

with

Rick

Resnick




Wed

Jan 10 6:30 pm - 7:45 pm

with

Rick

Resnick




Wed

Jan 17 6:30 pm - 7:45 pm

with

Rick

Resnick




Wed

Jan 24 6:30 pm - 7:45 pm

with

Rick

Resnick




Wed

Jan 31 6:30 pm - 7:45 pm

with

Rick

Resnick




Wed

Feb 07 6:30 pm - 7:45 pm

with

Rick

Resnick




Wed

Feb 14 6:30 pm - 7:45 pm

with

Rick

Resnick




Wed

Feb 21 6:30 pm - 7:45 pm

with

Rick

Resnick




Wed

Feb 28 6:30 pm - 7:45 pm

with

Rick

Resnick




Wed

Mar 07 6:30 pm - 7:45 pm

with

Rick

Resnick




Wed

Mar 14 6:30 pm - 7:45 pm

with

Rick

Resnick




Wed

Mar 21 6:30 pm - 7:45 pm

with

Rick

Resnick




Wed

Mar 28 6:30 pm - 7:45 pm

with

Rick

Resnick




Wed

Apr 04 6:30 pm - 7:45 pm

with

Rick

Resnick




Wed

Apr 11 6:30 pm - 7:45 pm

with

Rick

Resnick