Meditation
This class is taught by: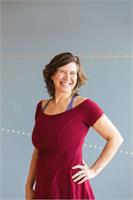 Star's first introduction to yoga was a Kundalini class over 27 years ago at the University of Oregon. After that, ssh was hooked. For the next ten + years she continued to practice Kundalini whenever and where ever she could. During the same time, Hatha yoga began to gain in popularity, and she started taking classes in gyms and yoga studios. "I consider myself a universalist, studying and enjoying many styles, of yoga, "say's Star. "I have taken training in an array of styles and fuse together the elements of these styles into my classes."
She continues to study yoga with local teachers Siva Rothstein and recognizes Katey Inman, Stephanie Keach, and Shala Worse as some of her formative teachers.
Star's philosophy is that yoga can be playful yet powerful and through an in-depth exploration of the physical body we can experience the philosophy of yoga in a visceral way.
Trained in more than seven styles of yoga and having taught for over tens years, Star is a gem of a teacher, and she is guaranteed to rock your asana!
Before I tried yoga, I thought I wasn't the right kind of person for it. I was a broke, chain-smoking artist, who was slightly cynical and disconnected from my body. A good friend finally talked me into going to a donation class when I lived in San Francisco. It was a huge class, and it seemed like everyone was there. There were all kinds of dispositions, body types, and skill levels - I loved it . I kept practicing because it felt so good afterwards (now it feels good during). I could breathe deeply for what seemed like the first time. I discovered that there is no "kind of person" who does yoga. Yoga can be for anyone. Still, I wondered if I would become perfect - perhaps an enlightened being, or an underwear model- but what has actually happened is much better. After many years of breathing, stretching, sweating, and paying attention, yoga has helped me experience equanimity and acceptance. I feel more grounded in my body and alive. I hope to share that experience in my classes.
Yoga: the healthy habit! One class and you're hooked––in a good way. It tends to pull us into a healthier lifestyle. It's not just the exercise, though, it's the better breathing, clearer thinking, and more balanced emotions. In '95, my first class made all the difference in my life. Then in '05, wanting to delve deeper, I studied at Samadhi Yoga in Seattle, where I finally accepted that "ohm" wasn't weird. I delved into the ancient texts, and modern ones too, about the art, science, and philosophy of yoga, and attempt to apply it "off the mat"––practice, practice, practice. In my classes, I strive to create an environment where everyone has the freedom to explore the space in their body, heart, and mind. And I usually conclude class with an inspirational reading.
All levels. Meditation is one of the most natural and rewarding of all human activities. It gives direct, intuitive experience of higher realities, and is the cornerstone of true spirituality. It also helps create balance and cultivate inner peace. Meditation may produce profound results on all levels of your being—physical, mental, emotional, and spiritual. Come connect you with your own inner powers of vitality, clarity, and love!
Upcoming classes:
Mon

Jun 26 6:45 pm - 7:45 pm

with

Star

Amoureux




Wed

Jun 28 6:45 pm - 7:45 pm

with

Melanie

Lombard




Wed

Jul 05 6:45 pm - 7:45 pm

with

Melanie

Lombard




Mon

Jul 10 6:45 pm - 7:45 pm

with

Stefanie

Tatalias




Wed

Jul 12 6:45 pm - 7:45 pm

with

Melanie

Lombard




Mon

Jul 17 6:45 pm - 7:45 pm

with

Stefanie

Tatalias




Wed

Jul 19 6:45 pm - 7:45 pm

with

Melanie

Lombard




Mon

Jul 24 6:45 pm - 7:45 pm

with

Stefanie

Tatalias




Wed

Jul 26 6:45 pm - 7:45 pm

with

Melanie

Lombard




Mon

Jul 31 6:45 pm - 7:45 pm

with

Stefanie

Tatalias




Wed

Aug 02 6:45 pm - 7:45 pm

with

Melanie

Lombard




Mon

Aug 07 6:45 pm - 7:45 pm

with

Stefanie

Tatalias




Wed

Aug 09 6:45 pm - 7:45 pm

with

Melanie

Lombard




Mon

Aug 14 6:45 pm - 7:45 pm

with

Stefanie

Tatalias




Wed

Aug 16 6:45 pm - 7:45 pm

with

Melanie

Lombard




Mon

Aug 21 6:45 pm - 7:45 pm

with

Stefanie

Tatalias




Wed

Aug 23 6:45 pm - 7:45 pm

with

Melanie

Lombard




Mon

Aug 28 6:45 pm - 7:45 pm

with

Stefanie

Tatalias




Wed

Aug 30 6:45 pm - 7:45 pm

with

Melanie

Lombard