Guided Meditation
This class is taught by: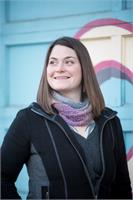 Before I tried yoga, I thought I wasn't the right kind of person for it. I was a broke, chain-smoking artist, who was slightly cynical and disconnected from my body. A good friend finally talked me into going to a donation class when I lived in San Francisco. It was a huge class, and it seemed like everyone was there. There were all kinds of dispositions, body types, and skill levels - I loved it . I kept practicing because it felt so good afterwards (now it feels good during). I could breathe deeply for what seemed like the first time. I discovered that there is no "kind of person" who does yoga. Yoga can be for anyone. Still, I wondered if I would become perfect - perhaps an enlightened being, or an underwear model- but what has actually happened is much better. After many years of breathing, stretching, sweating, and paying attention, yoga has helped me experience equanimity and acceptance. I feel more grounded in my body and alive. I hope to share that experience in my classes.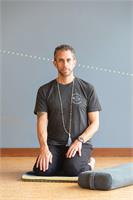 An ancient sage once wrote that the deeper purpose of yoga was to still the chattering distractions of the mind. I agree absolutely and dare to suggest that the intentional practice of any physical medium whether it be yoga, cycle, running or whatever it may be has the same outcome. At first, the practitioner seeks physical health with all it's benefits but after a while there comes a profound mental clarity that goes beyond the everyday thoughts and identifications of the ego. There is something that happens when our bodies become our ally through effort and self love that allows us to live more fully. I hold this conviction near to my heart, taking it into whatever I teach whether it be the physical poses of yoga, the stories behind the practice or an epic ride. My own journey has certainly proven this truth again and again. All the activities I explored on the journey towards yoga such as wrestling, T'ai Chi, sports fencing and hiking pointed in this direction. Looking back it makes absolute sense that I teach yoga and indoor cycle, but I still smile when thinking about it. Life has a way of doing that for us.
Come check out one of my classes, surround yourself with epic music, breath, discover the edge and move beyond it. Without a doubt, this process of expanding our physical health is a metaphor for all levels of our lives, we step past our habits and self-imposed limitations to discover infinite possibilities. Love and Gratitude!
All levels. Meditation is one of the most natural and rewarding of all human activities. It gives direct, intuitive experience of higher realities, and is the cornerstone of true spirituality. It also helps create balance and cultivate inner peace. Meditation may produce profound results on all levels of your being—physical, mental, emotional, and spiritual. Come connect you with your own inner powers of vitality, clarity, and love!
Upcoming classes:
Wed

Dec 13 6:45 pm - 7:45 pm

with

Melanie

Lombard




Mon

Dec 18 6:45 pm - 7:45 pm

with

David

Westlake




Wed

Dec 20 6:45 pm - 7:45 pm

with

Melanie

Lombard




Wed

Dec 27 6:45 pm - 7:45 pm

with

Melanie

Lombard




Mon

Jan 01 6:45 pm - 7:45 pm

with

David

Westlake




Wed

Jan 03 6:45 pm - 7:45 pm

with

Melanie

Lombard




Mon

Jan 08 6:45 pm - 7:45 pm

with

David

Westlake




Wed

Jan 10 6:45 pm - 7:45 pm

with

Melanie

Lombard




Mon

Jan 15 6:45 pm - 7:45 pm

with

David

Westlake




Wed

Jan 17 6:45 pm - 7:45 pm

with

Melanie

Lombard




Mon

Jan 22 6:45 pm - 7:45 pm

with

David

Westlake




Wed

Jan 24 6:45 pm - 7:45 pm

with

Melanie

Lombard




Mon

Jan 29 6:45 pm - 7:45 pm

with

David

Westlake




Wed

Jan 31 6:45 pm - 7:45 pm

with

Melanie

Lombard




Mon

Feb 05 6:45 pm - 7:45 pm

with

David

Westlake




Wed

Feb 07 6:45 pm - 7:45 pm

with

Melanie

Lombard




Mon

Feb 12 6:45 pm - 7:45 pm

with

David

Westlake




Wed

Feb 14 6:45 pm - 7:45 pm

with

Melanie

Lombard




Mon

Feb 19 6:45 pm - 7:45 pm

with

David

Westlake