Hot Flow*
This class is taught by: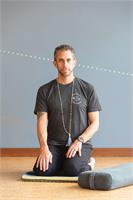 An ancient sage once wrote that the deeper purpose of yoga was to still the chattering distractions of the mind. I agree absolutely and dare to suggest that the intentional practice of any physical medium whether it be yoga, cycle, running or whatever it may be has the same outcome. At first, the practitioner seeks physical health with all it's benefits but after a while there comes a profound mental clarity that goes beyond the everyday thoughts and identifications of the ego. There is something that happens when our bodies become our ally through effort and self love that allows us to live more fully. I hold this conviction near to my heart, taking it into whatever I teach whether it be the physical poses of yoga, the stories behind the practice or an epic ride. My own journey has certainly proven this truth again and again. All the activities I explored on the journey towards yoga such as wrestling, T'ai Chi, sports fencing and hiking pointed in this direction. Looking back it makes absolute sense that I teach yoga and indoor cycle, but I still smile when thinking about it. Life has a way of doing that for us.
Come check out one of my classes, surround yourself with epic music, breath, discover the edge and move beyond it. Without a doubt, this process of expanding our physical health is a metaphor for all levels of our lives, we step past our habits and self-imposed limitations to discover infinite possibilities. Love and Gratitude!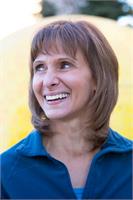 I took my first yoga class with Rick Resnick on August 1, 2009. I had no idea what I was getting into. I made it through class and was hooked. My idea of yoga did not hold up to what I had just done. I was exhausted but my body felt great and my back felt better than it had for a long time. Today, I am stronger, have better balance and am more flexible than ever before. I have learned that I "can". I hope to be practicing hot yoga until a very old age. Each day brings you the opportunity to learn something new about yourself and work towards finding balance between your mind, body, and soul.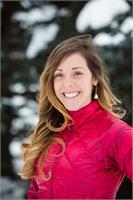 My yoga story began about 10 years ago in Bellingham, Washington. After experiencing a variety of hardships throughout my life, I was not sure how to deal with my emotions, how to love my body, or how to heal. I received a free class pass from a friend for a local studio and after my first class I felt light was finally able to break through into my heart and I was hooked. I spent 4 years cleaning the space and mopping the floors in that same studio everyday in exchange for free yoga classes. Since then, my yoga practice has taught me how to piece together the parts of myself and find peace I did not know existed! Yoga has taught me to love myself, others, and this beautiful messy thing we call life! In 2014, my journey led me to Anchorage Yoga's Teacher Training. I will be forever grateful for the teachers here at Anchorage Yoga and my fellow students that made the experience such a powerful and transformational one! I like to teach classes that challenge the body and the mind while incorporating the occasional laughter and silliness. My wish is that students leave my class feeling light, joyful, and strong!
All levels. 60 min version of our Signature Class! Hot Flow is a dynamic vinyasa style practice that combines elements of Bikram, Anusara, Kundalini and Ashtanga Yoga. This "perfect" combination of balancing, strengthening, energizing and deep stretching poses set to music and practiced in a room heated to 95°. This class is appropriate for newcomers as well as the more experienced yogi. From head to toe your body will feel invigorated and detoxified while you sharpen your mental focus and renew your spirit. Be prepared to SWEAT!
Upcoming classes:
Fri

Aug 25 6:00 am - 7:00 am

with

David

Westlake




Mon

Aug 28 6:00 am - 7:00 am

with

Hollie

Kovach




Fri

Sep 01 6:00 am - 7:00 am

with

David

Westlake




Mon

Sep 04 6:00 am - 7:00 am

with

Jillian

Bender




Fri

Sep 08 6:00 am - 7:00 am

with

David

Westlake




Mon

Sep 11 6:00 am - 7:00 am

with

Jillian

Bender




Fri

Sep 15 6:00 am - 7:00 am

with

David

Westlake




Mon

Sep 18 6:00 am - 7:00 am

with

Jillian

Bender




Fri

Sep 22 6:00 am - 7:00 am

with

David

Westlake




Mon

Sep 25 6:00 am - 7:00 am

with

Jillian

Bender




Fri

Sep 29 6:00 am - 7:00 am

with

David

Westlake




Mon

Oct 02 6:00 am - 7:00 am

with

Jillian

Bender




Fri

Oct 06 6:00 am - 7:00 am

with

David

Westlake




Mon

Oct 09 6:00 am - 7:00 am

with

Jillian

Bender




Fri

Oct 13 6:00 am - 7:00 am

with

David

Westlake




Mon

Oct 16 6:00 am - 7:00 am

with

Jillian

Bender




Fri

Oct 20 6:00 am - 7:00 am

with

David

Westlake




Mon

Oct 23 6:00 am - 7:00 am

with

Jillian

Bender




Fri

Oct 27 6:00 am - 7:00 am

with

David

Westlake




Mon

Oct 30 6:00 am - 7:00 am

with

Jillian

Bender