AY Flow 1*
This class is taught by:
Leah's yoga practice began in 2007, but it wasn't until 2009, as she searched for purpose and deep-seated fulfillment in her life, did she get a taste of the limitless and infinite possibilities that all aspects of yoga can offer. Leah completed a 300-hour yoga teacher training and Thai massage certification program in Nepal in 2010 with Yogi-Nomad, a non-profit organization dedicated to expanding consciousness through yoga worldwide. Leah loves to travel because it allows her to step outside her comfort zone (which is expanding drastically with every new experience and discovery), however, yoga has revealed the age-old concept that true happiness and inner peace must stem from within. Not only is yoga guiding Leah to develop a deeper understanding of herself, but more than anything, it is bringing awareness to the subtleties in life and about being in the PRESENT MOMENT. By being here and now, conversations are richer, connections with friends and strangers are fuller and more colorful, and through constant cultivation of self-love, the she is able to share her positive energy with others every day. Leah's classes incorporate creative and dynamic movement for students to explore their body and mind. She encourages students to extend the lessons learned on the mat and apply them to their everyday lives. When it comes down to it, yoga should be fun and feel GOOOOD from the inside out.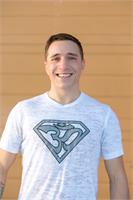 I am a lifelong Alaskan, born and raised in Homer. I am the oldest of six kids and the only boy. I work in the construction industry but I try to spend as much time playing outside as possible!
Although I originally started practicing yoga to rehab from a knee injury, I've experienced a multitude of benefits beyond just physical ones. Yoga has not only helped me heal and strengthen my body but it also helps ground me and develop mental and emotional clarity. I think yoga can affect positive change in all aspects of our lives and I appreciate how yoga always seems to bring me back to who I want to be and who I'm working on becoming. After experiencing for myself many wide-ranging benefits from a regular yoga practice I was inspired to share my passion with others, so I attended the Anchorage Yoga Teacher Training program. I've been teaching yoga ever since graduating and I would love to invite you to check out a class sometime and enjoy a brief yoga journey that can help you feel better – inside and out!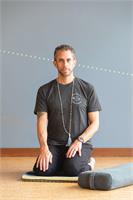 An ancient sage once wrote that the deeper purpose of yoga was to still the chattering distractions of the mind. I agree absolutely and dare to suggest that the intentional practice of any physical medium whether it be yoga, cycle, running or whatever it may be has the same outcome. At first, the practitioner seeks physical health with all it's benefits but after a while there comes a profound mental clarity that goes beyond the everyday thoughts and identifications of the ego. There is something that happens when our bodies become our ally through effort and self love that allows us to live more fully. I hold this conviction near to my heart, taking it into whatever I teach whether it be the physical poses of yoga, the stories behind the practice or an epic ride. My own journey has certainly proven this truth again and again. All the activities I explored on the journey towards yoga such as wrestling, T'ai Chi, sports fencing and hiking pointed in this direction. Looking back it makes absolute sense that I teach yoga and indoor cycle, but I still smile when thinking about it. Life has a way of doing that for us.
Come check out one of my classes, surround yourself with epic music, breath, discover the edge and move beyond it. Without a doubt, this process of expanding our physical health is a metaphor for all levels of our lives, we step past our habits and self-imposed limitations to discover infinite possibilities. Love and Gratitude!
All Levels: While this class emphasizes the fundamentals of a basic asana practice. Continuous movement and correct alignment, combined with connection to breath is emphasized by the instructor. This class is great for new comers, as well as those looking to strengthen the foundation of their practice. Come open your body, unfold your breath and awaken your inner Radiance.
Upcoming classes:
Tue

Oct 17 6:00 am - 7:00 am

with

Leah

Levinton




Thu

Oct 19 6:00 am - 7:00 am

with

Leah

Levinton




Tue

Oct 24 6:00 am - 7:00 am

with

Bronson

Frye




Thu

Oct 26 6:00 am - 7:00 am

with

David

Westlake




Tue

Oct 31 6:00 am - 7:00 am

with

David

Westlake




Thu

Nov 02 6:00 am - 7:00 am

with

Leah

Levinton




Tue

Nov 07 6:00 am - 7:00 am

with

Leah

Levinton




Thu

Nov 09 6:00 am - 7:00 am

with

Leah

Levinton




Tue

Nov 14 6:00 am - 7:00 am

with

Leah

Levinton




Thu

Nov 16 6:00 am - 7:00 am

with

Leah

Levinton




Tue

Nov 21 6:00 am - 7:00 am

with

Leah

Levinton




Tue

Nov 28 6:00 am - 7:00 am

with

Leah

Levinton




Thu

Nov 30 6:00 am - 7:00 am

with

Leah

Levinton




Tue

Dec 05 6:00 am - 7:00 am

with

Leah

Levinton




Thu

Dec 07 6:00 am - 7:00 am

with

Leah

Levinton




Tue

Dec 12 6:00 am - 7:00 am

with

Leah

Levinton




Thu

Dec 14 6:00 am - 7:00 am

with

Leah

Levinton




Tue

Dec 19 6:00 am - 7:00 am

with

Leah

Levinton




Thu

Dec 21 6:00 am - 7:00 am

with

Leah

Levinton