OneRide - 60min
This class is taught by: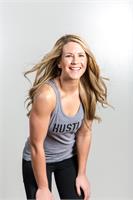 Growing up as a Coast Guard military brat, my family was often transferred to new cities and states. My siblings and I always found our way into friendships and school communities through sports and (my sister and I) through music. There is no better way to connect with other individuals than through team activities, a good SWEAT, and a shared passion for music. I am a dental hygienist by day, but as a former college athlete I have always wanted to pursue my deep rooted love for fitness and physical activity. After becoming an active participant at Anchorage Yoga, I overheard a conversation about Anchorage Cycle. While I generally tend to be a solo gym rat, I knew that if Anchorage Yoga could have such a powerful impact on my life, so could the cycle studio. After several classes, I realized I had found the avenue I was looking for. I couldn't be more happy to have started my journey into indoor-cycle instructing. The real magic happens outside our comfort zones!
I would love nothing more than to change the way clients look at fitness. It is not about one workout, it is a lifestyle! So clip in with me, jam out to some great music, and leave every class feeling better than when you walked in.
Our signature ride is a fun, high-intensity and low-impact cardio party! Our expert motivators create challenging, exhilarating rides featuring indoor cycling techniques combined with upper body hand weights. Choreographed to the rhythmic beats of energetic, uplifting music, you'll stay motivated to reach your fitness goals. BEWARE. . .this HOUR LONG class may change your body and your life.