Indoor Cycling Instructor Certificate
This class is taught by: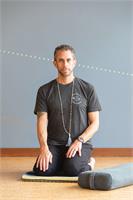 An ancient sage once wrote that the deeper purpose of yoga was to still the chattering distractions of the mind. I agree absolutely and dare to suggest that the intentional practice of any physical medium whether it be yoga, cycle, running or whatever it may be has the same outcome. At first, the practitioner seeks physical health with all it's benefits but after a while there comes a profound mental clarity that goes beyond the everyday thoughts and identifications of the ego. There is something that happens when our bodies become our ally through effort and self love that allows us to live more fully. I hold this conviction near to my heart, taking it into whatever I teach whether it be the physical poses of yoga, the stories behind the practice or an epic ride. My own journey has certainly proven this truth again and again. All the activities I explored on the journey towards yoga such as wrestling, T'ai Chi, sports fencing and hiking pointed in this direction. Looking back it makes absolute sense that I teach yoga and indoor cycle, but I still smile when thinking about it. Life has a way of doing that for us.
Come check out one of my classes, surround yourself with epic music, breath, discover the edge and move beyond it. Without a doubt, this process of expanding our physical health is a metaphor for all levels of our lives, we step past our habits and self-imposed limitations to discover infinite possibilities. Love and Gratitude!
The AYC Indoor Cycling certificate program is geared toward preparing candidates to excel in the role of cycling instructor. It includes sixteen hours of hands on instruction and four hours of class observations. This is a 20 hour program which grants a paper certificate that guarantees participants have completed the basic skills to teach an indoor cycling rhythm riding based class. This is the next stage for those interested in auditioning for acceptance into our Motivator in Training program or for preparation to teach cycle classes in the health and wellness space.
Cost: $390 *Members receive 10% off