Hot 26 (FREE Community Class)
This class is taught by:
I was looking for a new life when I stumbled into yoga. I had no idea what I was getting myself into. I tried the various types of yoga offered at Anchorage Yoga. I loved them all, but I felt a deep desire to "conquer" Hot 26; which ultimately turned into a struggle with myself. I loved that I had found the platform to "show up" for life. Being on my mat taught me to be in the present moment, accept myself as I am, and find a true balance in my life. I decided to deepen my understanding and awareness by taking the Anchorage Yoga Teacher Training in Spring 2017. That experience left me with a genuine gratitude for life, as well as, a strong connection to continue to grow as an individual both on and off the mat. As a teacher I hope to help others meet themselves where they are and practice compassion and acceptance for themselves.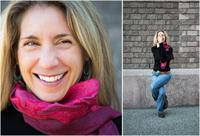 My first exposure to yoga was a Bikram class in 1996. I had no idea what I was getting myself into and the class didn't match any of my preconceived notions of what yoga was about. I'd never been physically and mentally challenged like that, and I had to go back for more. Since then my practice has grown to include Ashtanga, vinyasa and other styles of yoga, but my home base has always been Bikram yoga. More than anything else, it's helped me to manage stress, anxiety, and debilitating lumbar and cervical spine issues. I have more flexibility, endurance and strength now, in my 50s, than at any other time in my life. I believe in Bikram yoga because of what I've experienced firsthand, and what I've seen and heard from others over the years. I encourage students to practice with intensity and precision, but always with a smile and a healthy dose of humor.
(All levels) This is the classic twenty-six postures with two breathing exercises. This class helps to strengthen the mind as well as shape, sculpt, and heal the body. Designed for beginning thru advanced yoga students, we practice in a room heated to 102°. The heat allows you to work deeper into the muscles increasing flexibility, cardiovascular endurance, and muscular strength.
For a limited time, the 4:00pm class is a FREE Community Class and will be taught by new instructors.
Upcoming classes:
Sat

Oct 20 4:00 pm - 5:30 pm

with

Stefanie

Dominguez




Sat

Oct 27 4:00 pm - 5:30 pm

with

Melanie

Duchin




Sat

Nov 03 4:00 pm - 5:30 pm

with

Stefanie

Dominguez




Sat

Nov 10 4:00 pm - 5:30 pm

with

Stefanie

Dominguez




Sat

Nov 17 4:00 pm - 5:30 pm

with

Stefanie

Dominguez




Sat

Nov 24 4:00 pm - 5:30 pm

with

Stefanie

Dominguez




Sat

Dec 01 4:00 pm - 5:30 pm

with

Stefanie

Dominguez




Sat

Dec 08 4:00 pm - 5:30 pm

with

Stefanie

Dominguez




Sat

Dec 15 4:00 pm - 5:30 pm

with

Stefanie

Dominguez




Sat

Dec 22 4:00 pm - 5:30 pm

with

Stefanie

Dominguez




Sat

Dec 29 4:00 pm - 5:30 pm

with

Stefanie

Dominguez