Bliss Flow
This class is taught by: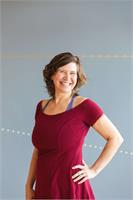 Star's first introduction to yoga was a Kundalini class over 27 years ago at the University of Oregon. After that, ssh was hooked. For the next ten + years she continued to practice Kundalini whenever and where ever she could. During the same time, Hatha yoga began to gain in popularity, and she started taking classes in gyms and yoga studios. "I consider myself a universalist, studying and enjoying many styles, of yoga, "say's Star. "I have taken training in an array of styles and fuse together the elements of these styles into my classes."
She continues to study yoga with local teachers Siva Rothstein and recognizes Katey Inman, Stephanie Keach, and Shala Worse as some of her formative teachers.
Star's philosophy is that yoga can be playful yet powerful and through an in-depth exploration of the physical body we can experience the philosophy of yoga in a visceral way.
Trained in more than seven styles of yoga and having taught for over tens years, Star is a gem of a teacher, and she is guaranteed to rock your asana!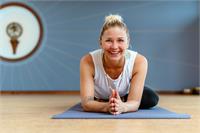 (E-RYT 500) Katey Inman, co-owner and director of Anchorage Yoga, has practiced and studied Yoga for over two decades. While living in Arizona, she trained with Anusara teachers Jordan and Martin Kirk completing her first 200-hour Yoga Alliance® Teacher Training at At One Yoga. Upon completing her training she traveled to Auro Valley Ashram in India to further her studies. Soon after she returned from India Katey knew that Yoga had become a path for her rather then a practice.
Over the years Katey has studied various schools of yoga and developed a love affair with the Philosophical teachings of Tantra. Most recently she has had the privilege to learn from a true Guru and credits her time with Dharma Mittra as life affirming and profoundly transformational. As a massage therapist Katey weaves her passion for anatomy into each of her classes and has developed her own methodology of teaching that encompasses her love for all things Yoga. Katey encourages her students to challenge themselves from a place of compassion, practice with purpose, and follow to the powers of divine intuition.
Pranam to those who have illuminated my path: Jordan and Martin Kirk, Lisa Goodwin, Satya and Ani Love, Dain Inman, Tias and Surya Little, Ram Das, Krishna Das, David Rominelli, Hareesh Wallis, Lynn Minton, Sri Dharma Mittra, and all the students who have come through our doors at Anchorage Yoga.
(level 2/3) Breathe.... Move.... and Sweat your way through this soulful vinyasa class! With sweet tunes and less verbal cues, you can dance your way from one pose to the next and top it off with 30 minutes of deep stretch. Be prepared for some mind-massagin', body-stretchin' peace-providin' BLISS.
Upcoming classes:
Sun

Aug 27 10:00 am - 11:30 am

with

Star

Amoureux




Wed

Aug 30 4:30 pm - 6:00 pm

with

Katey

Inman




Sun

Sep 03 10:00 am - 11:30 am

with

Katey

Inman




Wed

Sep 06 4:30 pm - 6:00 pm

with

Katey

Inman




Sun

Sep 10 10:00 am - 11:30 am

with

Katey

Inman




Wed

Sep 13 4:30 pm - 6:00 pm

with

Katey

Inman




Sun

Sep 17 10:00 am - 11:30 am

with

Katey

Inman




Wed

Sep 20 4:30 pm - 6:00 pm

with

Katey

Inman




Sun

Sep 24 10:00 am - 11:30 am

with

Katey

Inman




Wed

Sep 27 4:30 pm - 6:00 pm

with

Katey

Inman




Sun

Oct 01 10:00 am - 11:30 am

with

Katey

Inman




Wed

Oct 04 4:30 pm - 6:00 pm

with

Katey

Inman




Sun

Oct 08 10:00 am - 11:30 am

with

Katey

Inman




Wed

Oct 11 4:30 pm - 6:00 pm

with

Katey

Inman




Sun

Oct 15 10:00 am - 11:30 am

with

Katey

Inman




Wed

Oct 18 4:30 pm - 6:00 pm

with

Katey

Inman




Sun

Oct 22 10:00 am - 11:30 am

with

Katey

Inman




Wed

Oct 25 4:30 pm - 6:00 pm

with

Katey

Inman




Sun

Oct 29 10:00 am - 11:30 am

with

Katey

Inman




Wed

Nov 01 4:30 pm - 6:00 pm

with

Katey

Inman