Yoga Sculpt
This class is taught by: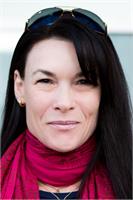 Melissa discovered yoga searching for ways to regain her flexibility and increase strength endurance. But after stepping into the studio for her first class, (at Anchorage Yoga) it was instant love. "Not only did I find the workouts for my body to be extremely beneficial, but surprisingly the workout for my soul became more important." After one year of consistent practice, Melissa decided to enter Anchorage Yoga's Teacher Training Program in 2012, and begin the the first steps towards her path as a yoga instructor. As a classically trained dancer, Melissa brings to her classes insights gained from decades of movement study intertwined with the foundations of yoga principles. Whether you are a novice just trying to to improve your overall physical wellbeing, an experienced yogi, or a trained athlete, I lead classes that offer up something for everyone. "On my path to become a better teacher, I have discovered that I am constantly learning, and I would love to invite all of my students to never stop growing, explore your inner strength, practice safely, embrace the hard work...and always leave class with a smile." Om Shanti Shanti Shanti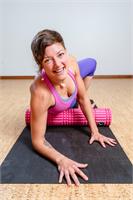 Christa's journey into yoga began over a decade ago in Chicago. Her passion for mountain biking drew her to Colorado and it was in the sunshine of Rocky Mountains, that she deepened her physical practice and earned a B.S. in Biology, emphasizing Human Physiology. Christa was so intrigued by the human body and the amazing capability of yoga to heal our bodies, that she enrolled in a 200 hour teacher training at Core Power in Fort Collins, Colorado. Here her passion was rewarded and her knowledge of yoga increased exponentially. She blossomed under the tutelage of experts including Dr. Katy Poole and Channing Grivas. Set to fun and uplifting music, you can expect to be inspired and challenged in Christa's classes as she guides you safely and joyfully through your practice!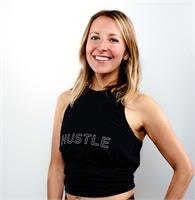 Born and raised in Alaska, Sarah pulled the classic move and went 'away' for college. That stint lasted a few additional years and upon returning home in 2009, she was missing a daily practice at a studio that felt right. To teach herself yoga, she enrolled in Janet Stone's 200hr Teacher Training, where her heart was burst open to the possibilities of this practice. Graduating in 2010, Sarah began teaching at Anchorage Yoga right away where she felt right at HOME. She has been a participating teacher in AY's 200hr Teacher Training program for the last 5 years and continues her own studies with teachers such as Schulyer Grant, Elena Brower, Janet Stone, Christopher Wallis and many more influences around the globe. Her classes are an invigorating mix of spirit and sweat. With her intelligent sequencing and spunk you will leave class feeling spacious in body and mind while laughing a little along the way.
(level 2/3) Yoga Sculpt is a total body workout designed to tone and sculpt every major muscle group. Free weights serve as your own personal adjuster as you move through sun salutations and other yoga postures, enabling extra length and depth in each pose. This intense, but easy to follow class complements your regular yoga practice while pushing your strength and flexibility to new heights. A fun way to mix up your Yoga practice! (85°)
Upcoming classes:
Mon

Jun 26 5:30 pm - 6:30 pm

with

Melissa

Beneke




Tue

Jun 27 5:15 pm - 6:15 pm

with

Christa

Koos




Wed

Jun 28 5:30 pm - 6:30 pm

with

Melissa

Beneke




Thu

Jun 29 5:15 pm - 6:15 pm

with

Sarah

Glassett




Wed

Jul 05 5:30 pm - 6:30 pm

with

Melissa

Beneke




Thu

Jul 06 5:15 pm - 6:15 pm

with

Sarah

Glassett




Mon

Jul 10 5:30 pm - 6:30 pm

with

Melissa

Beneke




Tue

Jul 11 5:15 pm - 6:15 pm

with

Christa

Koos




Wed

Jul 12 5:30 pm - 6:30 pm

with

Melissa

Beneke




Thu

Jul 13 5:15 pm - 6:15 pm

with

Sarah

Glassett




Mon

Jul 17 5:30 pm - 6:30 pm

with

Melissa

Beneke




Tue

Jul 18 5:15 pm - 6:15 pm

with

Christa

Koos




Wed

Jul 19 5:30 pm - 6:30 pm

with

Melissa

Beneke




Thu

Jul 20 5:15 pm - 6:15 pm

with

Sarah

Glassett




Mon

Jul 24 5:30 pm - 6:30 pm

with

Melissa

Beneke




Tue

Jul 25 5:15 pm - 6:15 pm

with

Christa

Koos




Wed

Jul 26 5:30 pm - 6:30 pm

with

Melissa

Beneke




Thu

Jul 27 5:15 pm - 6:15 pm

with

Sarah

Glassett