Leah Levinton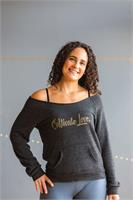 Leah's yoga practice began in 2007, but it wasn't until 2009, as she searched for purpose and deep-seated fulfillment in her life, did she get a taste of the limitless and infinite possibilities that all aspects of yoga can offer. Leah completed a 300-hour yoga teacher training and Thai massage certification program in Nepal in 2010 with Yogi-Nomad, a non-profit organization dedicated to expanding consciousness through yoga worldwide. Leah loves to travel because it allows her to step outside her comfort zone (which is expanding drastically with every new experience and discovery), however, yoga has revealed the age-old concept that true happiness and inner peace must stem from within. Not only is yoga guiding Leah to develop a deeper understanding of herself, but more than anything, it is bringing awareness to the subtleties in life and about being in the PRESENT MOMENT. By being here and now, conversations are richer, connections with friends and strangers are fuller and more colorful, and through constant cultivation of self-love, the she is able to share her positive energy with others every day. Leah's classes incorporate creative and dynamic movement for students to explore their body and mind. She encourages students to extend the lessons learned on the mat and apply them to their everyday lives. When it comes down to it, yoga should be fun and feel GOOOOD from the inside out.
Leah Levinton instructs the following:
All Levels: While this class emphasizes the fundamentals of a basic asana practice. Continuous movement and correct alignment, combined with connection to breath is emphasized by the instructor. This class is great for new comers, as well as those looking to strengthen the foundation of their practice. Come open your body, unfold your breath and awaken your inner Radiance.




(level 1/2) This vinyasa (or flow) style class has an emphasis on alignment and creative in nature. Our flow classes are inventive and thoughtfully sequenced. Rooted in the foundation of Ashtanga you will experience sun salutations, standing & seated postures, back bending and inversions – guided by a slow and steady breath. *Newer students receive extra support and attention in our level 1/2 classes.