Christa Koos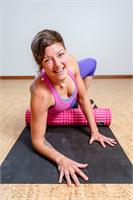 Christa's journey into yoga began over a decade ago in Chicago. Her passion for mountain biking drew her to Colorado and it was in the sunshine of Rocky Mountains, that she deepened her physical practice and earned a B.S. in Biology, emphasizing Human Physiology. Christa was so intrigued by the human body and the amazing capability of yoga to heal our bodies, that she enrolled in a 200 hour teacher training at Core Power in Fort Collins, Colorado. Here her passion was rewarded and her knowledge of yoga increased exponentially. She blossomed under the tutelage of experts including Dr. Katy Poole and Channing Grivas. Set to fun and uplifting music, you can expect to be inspired and challenged in Christa's classes as she guides you safely and joyfully through your practice!
Christa Koos instructs the following:
Imagine yourself surrounded by candlelight in the darkness of winter tending to your body's desire for more light. Join Christa Koos for a remarkable two-hour practice where you will explore the more subtle energetic aspects of your body. Learn about the Chakras; what they are and how working with them can restore a healthy flow of energy in our bodies and bring more balance into our lives. Through deep relaxing meditation, movement, lecture, and visualization we will allow our bodies and minds to absorb and integrate this transformational information.

This practice designed to nourish your body while re-kindling your inner light. Leave feeling warm you from your soul to your skin, vibrant and restored.

Cost: $35 (members receive 10% off)




(all levels) Deep Stretch is different from most traditional classes in that we don't explore any standing postures. Remaining close to the floor allows you to penetrate deep beneath the surface of your body. Long, slow, deep stretching allows you to unlock and release enormous amounts of tension. This class focuses on relaxing into the realm of your hips and shoulders and is often supported by the use of blocks and straps. Sweet Bliss! Sunday's class is 90 minutes.




On the yoga-class spectrum, restorative yoga is at the opposite end from hot or flow classes. The concept behind restorative yoga is muscular release, as opposed to muscular stretch. The class is designed to allow the body to relax and nourish itself by holding a series of gentle poses for extended periods of time. Props are utilized so that the practitioner can fully surrender. These soothing postures offer an opportunity to linger quietly and savor the simple sweetness of life while inducing stress-reduction, increased circulation and calmness of mind.




(level 1/2) This vinyasa (or flow) style class has an emphasis on alignment and creative in nature. Our flow classes are inventive and thoughtfully sequenced. Rooted in the foundation of Ashtanga you will experience sun salutations, standing & seated postures, back bending and inversions – guided by a slow and steady breath. *Newer students receive extra support and attention in our level 1/2 classes.




(level 2/3) Yoga Sculpt is a total body workout designed to tone and sculpt every major muscle group. Free weights serve as your own personal adjuster as you move through sun salutations and other yoga postures, enabling extra length and depth in each pose. This intense, but easy to follow class complements your regular yoga practice while pushing your strength and flexibility to new heights. A fun way to mix up your Yoga practice! (85°)




(all levels) This well-supported, slow-paced Hatha yoga focuses on basic yoga poses attention to breathing, alignment, and mindfulness. Therapeutic in nature, you will learn techniques to help you gain strength and flexibility while immersing yourself in a relaxing environment. This class is a perfect place to begin a yoga practice or just slow it down a little bit.