Natalie Huffman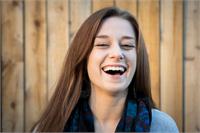 Natalie dove head first into the world of yoga in 2010. She immediately felt a spark of love for the practice, her body felt incredible and her mind felt calm. She studied with many amazing teachers and decided to go deeper and learn what yoga was really all about. In 2012, she took Anchorage Yoga's teacher training. After the training, she began teaching but continued learning. She has since gone to massage therapy school, trained with multiple teachers for Ashiatsu massage, and mentored with an authorized ashtanga teacher. She continues a daily practice and loves to share yoga and massage with others.
Natalie Huffman instructs the following:
(level 1/2) This vinyasa (or flow) style class has an emphasis on alignment and creative in nature. Our flow classes are inventive and thoughtfully sequenced. Rooted in the foundation of Ashtanga you will experience sun salutations, standing & seated postures, back bending and inversions – guided by a slow and steady breath. *Newer students receive extra support and attention in our level 1/2 classes.




(level 2/3) Yoga Sculpt is a total body workout designed to tone and sculpt every major muscle group. Free weights serve as your own personal adjuster as you move through sun salutations and other yoga postures, enabling extra length and depth in each pose. This intense, but easy to follow class complements your regular yoga practice while pushing your strength and flexibility to new heights. A fun way to mix up your Yoga practice! (85°)




All levels. Our Signature Class! Hot Fusion is a dynamic vinyasa style practice that combines elements of Bikram, Anusara, Kundalini and Ashtanga Yoga. This "perfect" combination of balancing, strengthening, energizing and deep stretching poses set to music and practiced in a room heated to 95°. This class is appropriate for newcomers as well as the more experienced yogi. From head to toe your body will feel invigorated and detoxified while you sharpen your mental focus and renew your spirit. Be prepared to SWEAT!

On Friday, the 7:45pm class is a FREE Community Class!