Melissa Beneke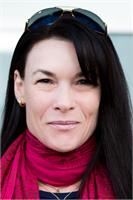 Melissa discovered yoga searching for ways to regain her flexibility and increase strength endurance. But after stepping into the studio for her first class, (at Anchorage Yoga) it was instant love. "Not only did I find the workouts for my body to be extremely beneficial, but surprisingly the workout for my soul became more important." After one year of consistent practice, Melissa decided to enter Anchorage Yoga's Teacher Training Program in 2012, and begin the the first steps towards her path as a yoga instructor. As a classically trained dancer, Melissa brings to her classes insights gained from decades of movement study intertwined with the foundations of yoga principles. Whether you are a novice just trying to to improve your overall physical wellbeing, an experienced yogi, or a trained athlete, I lead classes that offer up something for everyone. "On my path to become a better teacher, I have discovered that I am constantly learning, and I would love to invite all of my students to never stop growing, explore your inner strength, practice safely, embrace the hard work...and always leave class with a smile." Om Shanti Shanti Shanti
Melissa Beneke instructs the following:
(level 2/3) Yoga Sculpt is a total body workout designed to tone and sculpt every major muscle group. Free weights serve as your own personal adjuster as you move through sun salutations and other yoga postures, enabling extra length and depth in each pose. This intense, but easy to follow class complements your regular yoga practice while pushing your strength and flexibility to new heights. A fun way to mix up your Yoga practice! (85°)




(level 2/3) Our flow (or vinyasa) style class has an emphasis on alignment and creative in nature. All of our flow classes are inventive and thoughtfully sequenced. Rooted in the foundation of Ashtanga you will experience sun salutations, standing & seated postures, back bending, inversions, and arm balances. We guarantee you will leave this class feeling strong in both body and mind. Enliven your mind, lift your spirit, and be ready to explore your edge!

*Level 2/3 is for students with a regular yoga practice.




AIReal Yoga is a growing yoga practice that beautifully blends Hatha Yoga and AIReal Circus Arts. This system uses a soft and supportive aerial fabric hammock to help refine and enhance our traditional mat-based yoga practice. AIReal Yoga is designed to help release the kink from the spine, alleviate muscle tension, tone, and elongate muscles, mobilize and hydrate compressed joints and increase flexibility. This full body workout will align your body & mind from ground to up!