Glaceia Henderson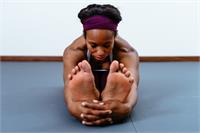 I LOVE YOGA!!! Ten years ago I moved to AK for outdoor adventures! With yoga I have found an adventure within. My practice began when doctors recommended yoga to relieve chronic neck & shoulder pain. Three years ago In 2004, I took my first yoga class at UAA with Nirvair Khalsa and I was hooked. Later that year in Los Angeles I took another yoga class, it was then and there that I had bitten me by curiosity and wanted to know more about the practice of yoga. It still took 8 years before finally deciding dive deeper and become a yoga teacher. On a Thursday afternoon after a one hour Bikram class with Melanie It occurred to me that I needed to have this feeling of calm and inner peace in my life on a constant basis. Shortly after this experience I enrolled in the 200 Teacher Training program at Anchorage Yoga and now I have the honor of sharing my practice with you! Not only do I love the challenge of a strong well and balanced yoga class, I truly believe that the mind, body, spirit connection, is incredibly powerful. When I'm not using my son as a chaturanga weight pack , I can be found either taking a yoga class, seriously practicing hard postures, (I am determined to keep having serious fun with yoga), hiking, and/or singing opera. Yoga changed my life for the better and I am grateful.
Glaceia Henderson instructs the following:
(all levels) This well-supported, slow-paced Hatha yoga focuses on basic yoga poses attention to breathing, alignment, and mindfulness. Therapeutic in nature, you will learn techniques to help you gain strength and flexibility while immersing yourself in a relaxing environment. This class is a perfect place to begin a yoga practice or just slow it down a little bit.




On the yoga-class spectrum, restorative yoga is at the opposite end from hot or flow classes. The concept behind restorative yoga is muscular release, as opposed to muscular stretch. The class is designed to allow the body to relax and nourish itself by holding a series of gentle poses for extended periods of time. Props are utilized so that the practitioner can fully surrender. These soothing postures offer an opportunity to linger quietly and savor the simple sweetness of life while inducing stress-reduction, increased circulation and calmness of mind.




Kids Yoga is a fun-filled yoga experience specifically designed for kids. In our fun environment children play in yoga by imitating animals and nature, using creative expression, games, music, and storytelling. Classes will help develop physical strength and flexibility, concentration, focus and attention, inner strength and body awareness, confidence and self-esteem, relaxation and self-control, and a feeling of well-being and respect for others.




Our Kids Yoga program, for 6-9 year olds, is designed to help support mind and body awareness and development. Yoga can benefit this specific age-group in many ways, including developing inner and outer strength, a sense of confidence and self-esteem, a deepened respect for self and others, and an overall sense of well-being.

Our instructor will teach various yoga poses and stretching exercises to help the kids improve strength, flexibility, movement integration and coordination. Breathing and visualization techniques will be utilized to increase relaxation and concentration, while learning methods of self-discipline and control.




(level 1/2) This vinyasa (or flow) style class has an emphasis on alignment and creative in nature. Our flow classes are inventive and thoughtfully sequenced. Rooted in the foundation of Ashtanga you will experience sun salutations, standing & seated postures, back bending and inversions – guided by a slow and steady breath. *Newer students receive extra support and attention in our level 1/2 classes.