David Westlake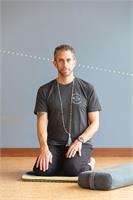 An ancient sage once wrote that the deeper purpose of yoga was to still the chattering distractions of the mind. I agree absolutely and dare to suggest that the intentional practice of any physical medium whether it be yoga, cycle, running or whatever it may be has the same outcome. At first, the practitioner seeks physical health with all it's benefits but after a while there comes a profound mental clarity that goes beyond the everyday thoughts and identifications of the ego. There is something that happens when our bodies become our ally through effort and self love that allows us to live more fully. I hold this conviction near to my heart, taking it into whatever I teach whether it be the physical poses of yoga, the stories behind the practice or an epic ride. My own journey has certainly proven this truth again and again. All the activities I explored on the journey towards yoga such as wrestling, T'ai Chi, sports fencing and hiking pointed in this direction. Looking back it makes absolute sense that I teach yoga and indoor cycle, but I still smile when thinking about it. Life has a way of doing that for us.
Come check out one of my classes, surround yourself with epic music, breath, discover the edge and move beyond it. Without a doubt, this process of expanding our physical health is a metaphor for all levels of our lives, we step past our habits and self-imposed limitations to discover infinite possibilities. Love and Gratitude!
David Westlake instructs the following:
Our signature ride is a fun, high-intensity and low-impact cardio party! Our expert motivators create challenging, exhilarating rides featuring indoor cycling techniques combined with upper body hand weights. Choreographed to the rhythmic beats of energetic, uplifting music, you'll stay motivated to reach your fitness goals. BEWARE. . .this 45-minute class may change your body and your life.




All levels. Our signature class! his alignment-based vinyasa (or flow) class is rooted in the tradition of classical Hatha yoga, infused with a touch of heat and linked together with fluid transitions. Designed to be similar or the same sequence every class it is perfect for beginners. From head to toe your body will feel invigorated and detoxified while you sharpen your mental focus and renew your spirit. Be prepared to SWEAT!




All levels. 60 min version of our Signature Class! Hot Flow is a dynamic vinyasa style practice that combines elements of Bikram, Anusara, Kundalini and Ashtanga Yoga. This "perfect" combination of balancing, strengthening, energizing and deep stretching poses set to music and practiced in a room heated to 95°. This class is appropriate for newcomers as well as the more experienced yogi. From head to toe your body will feel invigorated and detoxified while you sharpen your mental focus and renew your spirit. Be prepared to SWEAT!




(level 1/2) This vinyasa (or flow) style class has an emphasis on alignment and creative in nature. Our flow classes are inventive and thoughtfully sequenced. Rooted in the foundation of Ashtanga you will experience sun salutations, standing & seated postures, back bending and inversions – guided by a slow and steady breath. *Newer students receive extra support and attention in our level 1/2 classes.