Andrea Boyette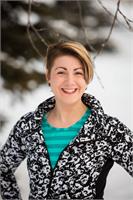 Growing up in Alaska I have always enjoyed the outdoors and the adventure of living in this great state. Snowboarding is one of my passions. After breaking my pelvis in three places while snowboarding in 2003, I became interested in yoga as part of my rehabilitation. Immediately I was opened up to a world that forever changed my life. I began Hatha and Anusara teacher training in 2012 with Karen Greenwood at Inner Dance, and I am forever invested as a student. My goal is to share the ten years of education and knowledge that has been passed on to me in this great community. My educational back ground includes; Certified 1st degree Black Belt in Tae Kwon Do. I am also a Certified Hatha Yoga Instructor; 200 hr Yoga Alliance RYT. Currently I am studying at the University of Alaska Anchorage; Bachelor of Science: Major in Health and Group Fitness, Minor in Athletic Training and Nutrition.
Andrea Boyette instructs the following:
(prenatal) Designed to nourish the body and soul during pregnancy, expectant mothers will use the principles of mind/body awareness to gain physical and mental strength to help you on your journey. Prenatal yoga can help relieve stress and physical discomfort, improve circulation, aid in digestion and create an overall feeling of well being. You will also find a warm supportive space to connect with other expectant moms. Yoga Mama is based on a Vinyasa template whereas Yoga Mama Gentle is based on a Gentle yoga class. (80°)




(all levels) This well-supported, slow-paced Hatha yoga focuses on basic yoga poses attention to breathing, alignment, and mindfulness. Therapeutic in nature, you will learn techniques to help you gain strength and flexibility while immersing yourself in a relaxing environment. This class is a perfect place to begin a yoga practice or just slow it down a little bit.