Penny Gage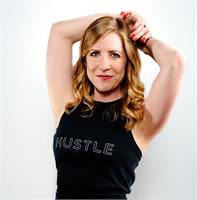 Originally from Sitka, I fell in love with indoor cycling while going to graduate school in Washington, D.C. With a background in a variety of dance styles and as a former Zumba instructor, I come to Anchorage Cycle with a keen ear for rhythm. My class is a place for riders to challenge themselves physically, while getting lost in the beat. Hopefully, with my upbeat and varied music, fun attitude, and love for a challenge, riders will leave the room feeling stronger, and with a smile on their face.
Penny Gage instructs the following:
Our signature ride is a fun, high-intensity and low-impact cardio party! Our expert motivators create challenging, exhilarating rides featuring indoor cycling techniques combined with upper body hand weights. Choreographed to the rhythmic beats of energetic, uplifting music, you'll stay motivated to reach your fitness goals. BEWARE. . .this 45-minute class may change your body and your life.




What's cool about this ride is that it is still your 45-minute sweaty OneRide class, but the structure is completely improvised based on the energy in the room. Instead of making a playlist and letting the pre-selected songs dictate the ride — YOU will be having a major impact on where the class goes! Enjoy sweet beats from one of our favorite DJs in town, Jacob Mattie!