Bronson Frye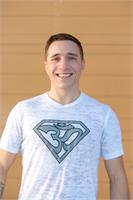 I am a lifelong Alaskan, born and raised in Homer. I am the oldest of six kids and the only boy. I work in the construction industry but I try to spend as much time playing outside as possible!
Although I originally started practicing yoga to rehab from a knee injury, I've experienced a multitude of benefits beyond just physical ones. Yoga has not only helped me heal and strengthen my body but it also helps ground me and develop mental and emotional clarity. I think yoga can affect positive change in all aspects of our lives and I appreciate how yoga always seems to bring me back to who I want to be and who I'm working on becoming. After experiencing for myself many wide-ranging benefits from a regular yoga practice I was inspired to share my passion with others, so I attended the Anchorage Yoga Teacher Training program. I've been teaching yoga ever since graduating and I would love to invite you to check out a class sometime and enjoy a brief yoga journey that can help you feel better – inside and out!
Bronson Frye instructs the following:
All levels. 60 min version of our Signature Class! This alignment-based vinyasa (or flow) class is rooted in the tradition of classical Hatha yoga, infused with a touch of heat and linked together with fluid transitions. Designed to be similar or the same sequence every class it is perfect for beginners. From head to toe your body will feel invigorated and detoxified while you sharpen your mental focus and renew your spirit. Be prepared to SWEAT!