Dawn Waladkewics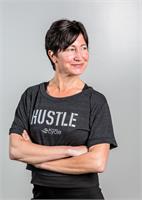 Ride on... I'm an ACE Certified Personal Trainer and have been a Certified Cycling Instructor for 20 years. I am super-stoked and grateful to get you pedaling at Anchorage Cycle. A believer in a balanced life, I love to eat, drink, and travel. Nicknamed the Nomad, I'm a tour guide and have lead tours and driven all round the States n' explored about 50 countries. My degree is in Radio/TV, it's kinda cool to combine my passion for playin' great tunes and my mission for makin' fitness fun and fulfilling. AYC is truly for everyone and first-timers with no experience can sweat next to a competitive athlete. Lets get (and keep) the wheel movin' - you won't be disappointed. With me, days (n' nights) are never dull. Good times guaranteed.
Dawn Waladkewics instructs the following:
Our signature ride is a fun, high-intensity and low-impact cardio party! Our expert motivators create challenging, exhilarating rides featuring indoor cycling techniques combined with upper body hand weights. Choreographed to the rhythmic beats of energetic, uplifting music, you'll stay motivated to reach your fitness goals. BEWARE. . .this 45-minute class may change your body and your life.