Lauden Garness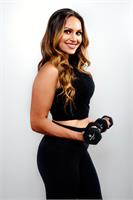 My passion for indoor cycling began just a few months after having my second child. I left my class feeling strong and encouraged; Shortly afterwards, I decided to make cycling part of every day life. As a wife and mother of small children, I understand how busy life can be but this challenge drives me to work harder and inspires me to set goals for myself. When I heard Anchorage Cycle was holding auditions for Motivators, I felt inwardly compelled to reach beyond my comfort zone and give it a shot. I am honored now to be a Motivator and have the opportunity to ride with all the wonderful people here at Anchorage Cycle.
Lauden Garness instructs the following:
Our signature ride is a fun, high-intensity and low-impact cardio party! Our expert motivators create challenging, exhilarating rides featuring indoor cycling techniques combined with upper body hand weights. Choreographed to the rhythmic beats of energetic, uplifting music, you'll stay motivated to reach your fitness goals. BEWARE. . .this 45-minute class may change your body and your life.