Star Amoureux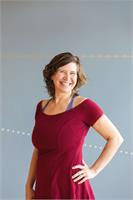 Star's first introduction to yoga was a Kundalini class over 27 years ago at the University of Oregon. After that, ssh was hooked. For the next ten + years she continued to practice Kundalini whenever and where ever she could. During the same time, Hatha yoga began to gain in popularity, and she started taking classes in gyms and yoga studios. "I consider myself a universalist, studying and enjoying many styles, of yoga, "say's Star. "I have taken training in an array of styles and fuse together the elements of these styles into my classes."
She continues to study yoga with local teachers Siva Rothstein and recognizes Katey Inman, Stephanie Keach, and Shala Worse as some of her formative teachers.
Star's philosophy is that yoga can be playful yet powerful and through an in-depth exploration of the physical body we can experience the philosophy of yoga in a visceral way.
Trained in more than seven styles of yoga and having taught for over tens years, Star is a gem of a teacher, and she is guaranteed to rock your asana!
Star Amoureux instructs the following:
Kids Yoga is a fun-filled yoga experience specifically designed for kids. In our fun environment children play in yoga by imitating animals and nature, using creative expression, games, music, and storytelling. Classes will help develop physical strength and flexibility, concentration, focus and attention, inner strength and body awareness, confidence and self-esteem, relaxation and self-control, and a feeling of well-being and respect for others.




On the yoga-class spectrum, restorative yoga is at the opposite end from hot or flow classes. The concept behind restorative yoga is muscular release, as opposed to muscular stretch. The class is designed to allow the body to relax and nourish itself by holding a series of gentle poses for extended periods of time. Props are utilized so that the practitioner can fully surrender. These soothing postures offer an opportunity to linger quietly and savor the simple sweetness of life while inducing stress-reduction, increased circulation and calmness of mind.




(prenatal) Designed to nourish the body and soul during pregnancy, expectant mothers will use the principles of mind/body awareness to gain physical and mental strength to help you on your journey. Prenatal yoga can help relieve stress and physical discomfort, improve circulation, aid in digestion and create an overall feeling of well being. You will also find a warm supportive space to connect with other expectant moms. Yoga Mama is based on a Vinyasa template whereas Yoga Mama Gentle is based on a Gentle yoga class. (80°)




(all levels) This well-supported, slow-paced Hatha yoga focuses on basic yoga poses attention to breathing, alignment, and mindfulness. Therapeutic in nature, you will learn techniques to help you gain strength and flexibility while immersing yourself in a relaxing environment. This class is a perfect place to begin a yoga practice or just slow it down a little bit.




(all levels) Deep Stretch is different from most traditional classes in that we don't explore any standing postures. Remaining close to the floor allows you to penetrate deep beneath the surface of your body. Long, slow, deep stretching allows you to unlock and release enormous amounts of tension. This class focuses on relaxing into the realm of your hips and shoulders and is often supported by the use of blocks and straps. Sweet Bliss! Sunday's class is 90 minutes.