Aspen Raney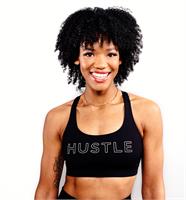 I work in Real Estate and as a full time mom since November 2015. About 9 months after I had my son I was looking for something new and was particularly interested in a group fitness class. I have a background in fitness, and lifting weights had always been my go to. After being persuaded by my mom, I decided to give Anchorage Cycle a try. I took my first class in September 2016 and was immediately sold. Honestly, I sucked in that first class and was out of shape, but I left feeling excited and renewed. From the moment I took my first class I decided that my ultimate goal was to become a Motivator and teach classes. I am so stoked to be apart of the Anchorage Cycle family and look forward to seeing you in the saddle!
Aspen Raney instructs the following:
Our signature ride is a fun, high-intensity and low-impact cardio party! Our expert motivators create challenging, exhilarating rides featuring indoor cycling techniques combined with upper body hand weights. Choreographed to the rhythmic beats of energetic, uplifting music, you'll stay motivated to reach your fitness goals. BEWARE. . .this 45-minute class may change your body and your life.