WHAT MAKES AN ANCHORAGE CYCLE CLASS DIFFERENT FROM INDOOR CYCLING CLASSES OFFERED AT GYMS??
Just about everything! Anchorage Cycle is the most immersive indoor cycling experience in Alaska. Our exhilarating signature rides provide the ultimate cardiovascular workout, and you'll have a blast while pedaling your way to a leaner, stronger body.

Music is everything at Anchorage Cycle. The beat fuels each workout, our dynamic team of certified instructors creates exhilarating rides choreographed to pulse-pounding, hypnotic tunes. From live DJ's to the latest club mixes and old school throwbacks, you'll be energized the moment you walk through our doors. We present a higher standard of indoor cycling to help you reach goals, and our staff is equipped with the knowledge to elevate your fitness, so you quickly see the results you deserve.



WHAT SHOULD I WEAR?
We suggest rocking a muscle tee or tank top and form-fitting pants or shorts on the bottom. Avoid long, loose-fitting pants that risk being tangled in the bike. Before rockin' out on the bike, we clip in. Cycling shoes offer a more secure position on the bike, and they're made with a stiff sole that enables more powerful pedal strokes. Translation we want your beast mode!



SHOULD I ARRIVE EARLY FOR MY FIRST CLASS?
Yes! Please arrive at least 20 minutes before class begins and inform the front desk staff it's your first time. For your first class we provide you with everything you need, we've got you covered. Also, please note that if it's a sold-out class, you must be checked-in five minutes prior to the start time and on your bike at the official start of class.



DO I HAVE TO BE A MEMBER OF ANCHORAGE CYCLE TO TAKE A CLASS?
Nope! You pay as you ride. You can purchase individual classes online or at the studio, or take advantage of discounted rates; packages of 5, 10 or 25 are available. Riders manage their accounts online, can reserve for the week ahead (Booking opens up seven days in advance of the scheduled class), and can select their individual bike.



DO I HAVE TO BRING ANYTHING WITH ME?
Yes, bring your bad-ass self and a water bottle! A positive attitude and Hydration is critical! We have a water bottle filling station and provide towels to wipe off your sweat. Trust us: you'll need one of these (or three!).



WHAT IF I NEED TO CANCEL MY CLASS?
No problem! We have a 2–hour cancellation policy. That means you can cancel up to 2 hours before the class start time. If you do not cancel 2 hours prior to the start of class package holders will lose a class, and members will be charged a discounted fee of $10. If you are attending a 6:15am Cycle class, the waitlist will freeze at 10 pm the night before. If you cancel after 10pm the night before class, it is considered a late cancel.
If you have trouble canceling or have any questions, please contact the studio. We understand life happens so each client will receive one courtesy cancel.



IF I MISS MY CLASS, CAN I TAKE ANOTHER CLASS WITHIN THE SAME DAY AND NOT BE CHARGED?
If you call Anchorage Cycle to cancel your class 30 minutes prior to the start of the class, we will allow you to take another class within the same day for no charge! However, if you are a 'no show' or if it is within 30 minutes of the start time, you will lose the class you were signed up for.



HOW DOES THE WAITLIST WORK?
We know the feeling...the class you want is FULL. But have no fear, ... the waitlist works! If a spot isn't available for the ride you want, join the waitlist. As spots open up, available clients are added to the class in the order that they signed up. You must first have a class package or membership to join the waitlist. When a spot does become available, you'll receive an email confirmation. It's important to note that adds happen automatically up to 2 hours before class. We assume you want to take every class you're waitlisted. If you no longer wish to ride it's important that you remove yourself from the waitlist. If you don't remove yourself from the waitlist, you may automatically get added to the class after it's too late to cancel without penalty. You can remove yourself from the waitlist online, using our app, or by calling the studios.



WHAT HAPPENS IF I AM LATE TO A CYCLING CLASS?
When a class begins, if you are not present at the studio five minutes prior to the class start time, your bike will be given to a waiting customer. Under all circumstances, there will be NO ADMITTANCE to class after 5 minutes for your safety and to prevent disruption to riders. First-time guests who arrive late to class will not be admitted under any circumstance.



ARE CELL PHONES ALLOWED IN THE STUDIO?
No, we do not allow cell phones in the studio. Please leave cell phones on silent in the changing room, or better yet in your car! If you are a doctor on call or your kid is sick, kindly leave your phone with the front desk and we will notify you if an emergency presents itself. Also, there is nothing more distracting than the lights and sounds of a cell phone when you are in the zone! So, please be respectful of the other riders in the studio.



I HAVE TAKEN A FEW INDOOR CYCLING CLASSES BUT FOUND THE BIKE TOO UNCOMFORTABLE TO ENJOY THE BENEFITS. MAYBE IT'S NOT FOR ME?
Okay, we hear this sometimes, and we don't want you giving up so easily! For some riders new to indoor cycling, the seat and positioning on the bike take getting used to. With a few classes under your belt, with proper form while riding, and with appropriate resistance on the flywheel, you will adjust in no time – and get hooked (we guarantee)!



CAN I TAKE AN CLASS IF I'M PREGNANT?
Doctors do not advise to try a new workout while pregnant, especially something as intensive as our Rides. If a client were regularly taking classes before they got pregnant, they could continue to come as long as they feel comfortable.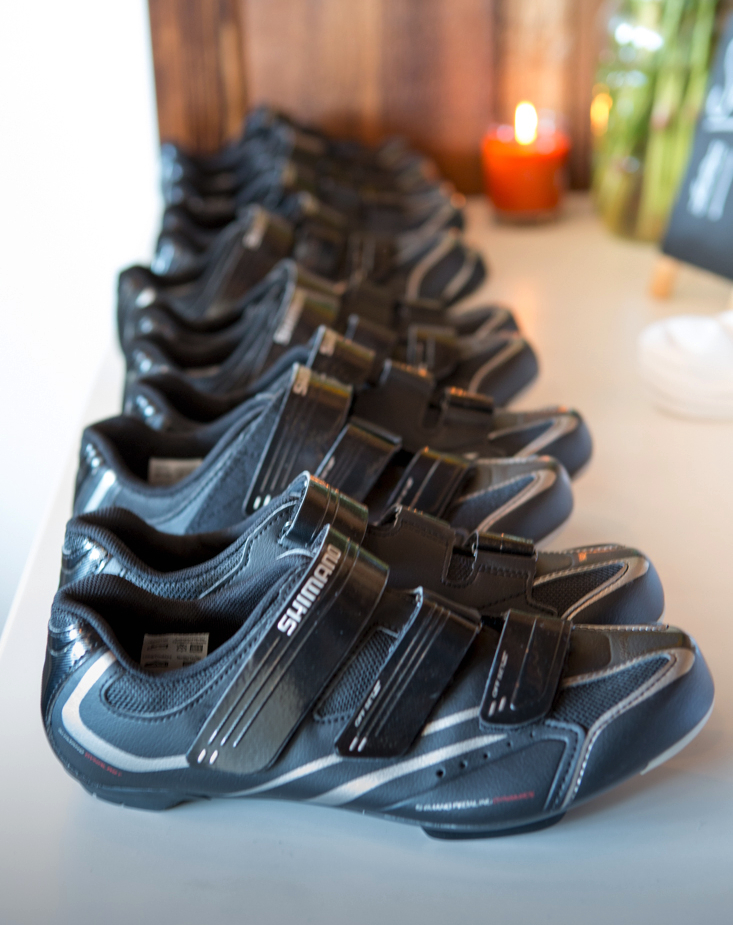 DO I NEED SPECIAL CYCLING SHOES?
For the first ride, your shoe rental is free! We provide cycling shoes with SPD clips for a smoother and more efficient ride. If you have your cycling shoes with SPD or LOOK pedal clips, you're encouraged to bring them provided they are not dirty from your outdoor cycling. If you need to wear your own shoes we have baskets on some of our bikes for your use.

HOW OLD DO YOU
HAVE TO BE TO TAKE A
CYCLE CLASS?
12 years or older and you must be 4' 11". If you're under 18, we require a signature from a parent or guardian.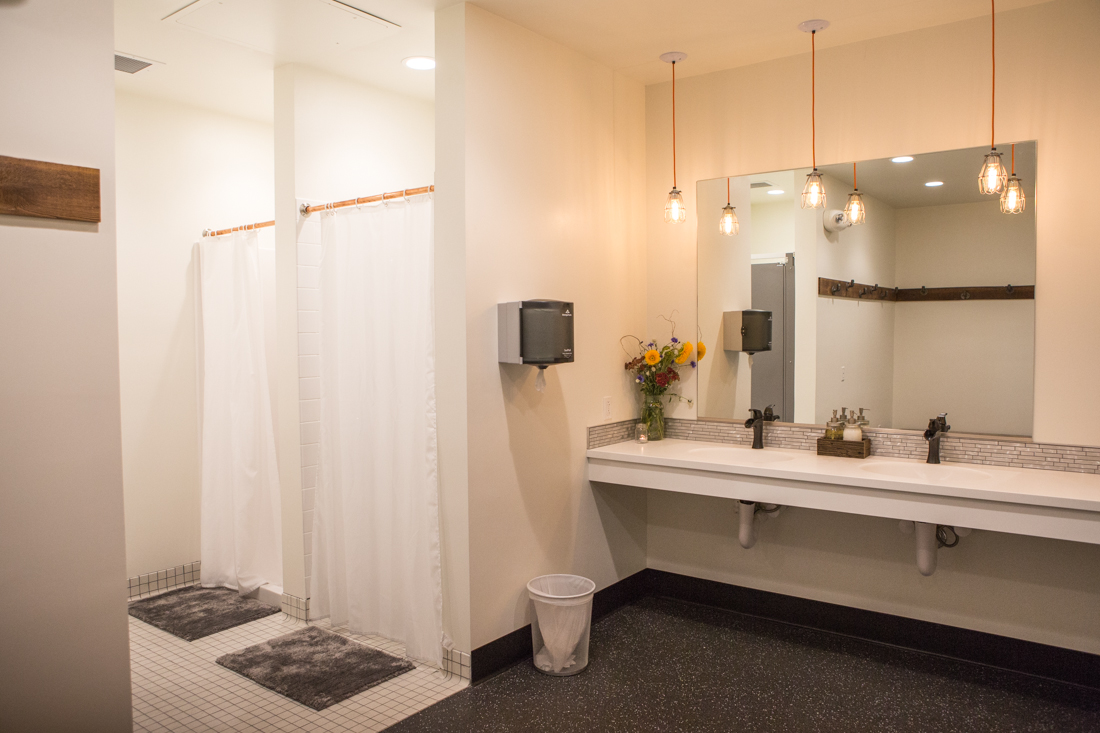 DO YOU HAVE LOCKER ROOMS & SHOWERS?
For your convenience, we offer immaculate men and women's facilities each equipped with showers, towels & premium toiletries. We also provide lockers outfitted with digital locks. Instructions on how to secure your belongings are on the inside of each locker or a staff member can demonstrate for you.