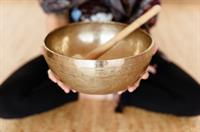 Ignite Your Inner Light: A Chakra Workshop

with

Christa

Koos

at Anchorage Yoga
Sat, Oct 20, 2018 at 4:30 pm - 6:30 pm
Imagine yourself surrounded by candlelight in the darkness of winter tending to your body's desire for more light. Join Christa Koos for a remarkable two-hour practice where you will explore the more subtle energetic aspects of your body. Learn about the Chakras; what they are and how working with them can restore a healthy flow of energy in our bodies and bring more balance into our lives. Through deep relaxing meditation, movement, lecture, and visualization we will allow our bodies and minds to absorb and integrate this transformational information.
This practice designed to nourish your body while re-kindling your inner light. Leave feeling warm you from your soul to your skin, vibrant and restored.
Cost: $35 (members receive 10% off)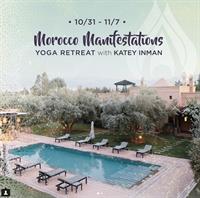 Morocco Manifestations | 7 Night

with

Katey

Inman

at Anchorage Yoga
Next held on Wed, Oct 31, 2018 at 8:00 am - 8:00 pm
This
enrollment
runs from Wed Oct 31, 2018 - Wed Nov 7, 2018
Enjoy 8 days & 7 luxurious nights at the beautifully manicured grounds of Peacock Pavilions just outside Marrakesh. Explore the spicy medinas of Marrakesh and experience a traditional Moroccan Hamma. Adorne your body with henna, eat exotic cuisine and watch cinema under the stars.

We aspire to provide an inspiring setting for you to explore your adventurous spirit and reconnect with a sense of wonder.
Morocco Manifestations
10.31.18 - 11.7.18
Cost: $3,295
Limited to 14 guests as this retreat is built around intimacy and transformation.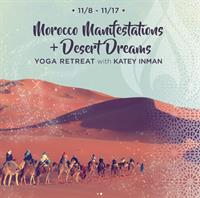 Morocco Manifestations + Desert Dreams | 10 Night

with

Katey

Inman

at Anchorage Yoga
Next held on Thu, Nov 8, 2018 at 4:00 pm - 4:00 pm
This
enrollment
runs from Thu Nov 8, 2018 - Sat Nov 17, 2018
Enjoy all that "Morocco Manifestations" has to offer in addition to 4 days & 3 nights of adventure to the North African desert.

This epic escape takes us from well-trodden tourist routes into the untouched sands of the Sahara Desert.

Just imagine... hidden valleys, red-mud villages, Kasbahs, an oasis of palm-date trees, riding camels through undiscovered desert scenery, dramatic panoramic sunsets over an otherworldly sea of endless dunes,
and star gazing under the vast desert sky.
Although "Desert Dreams" may be a bit more rustic than our time at Peacock it will be glamping at its finest.
Morocco Manifestations + Desert Dreams
11.8.18 - 11.17.18
Cost: $3,895
*There is ONE spot left for a male! Please contact Rachel (rachel@anchorageyoga.com) if interested in registering.
To learn more about this magical retreat, please visit the retreats page on our website where you'll find answers to FAQs.
http://anchorageyogacycle.com/morocco-manifestations-desert-dreams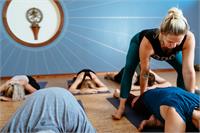 Hands On Assist Workshop

with

Leah

Levinton

at Anchorage Yoga
Sun, Nov 11, 2018 at 2:00 pm - 4:30 pm
Assisting is the ultimate way to be of service to your students and put loving-kindness into practice. A purposeful assist can help ground a student and enhance how they feel in the posture.

In this Hands-on Adjustments Workshop, we will illuminate the big picture of why, when, and how to apply hands-on adjustments, while learning foundational concepts for safe and intentional hands-on adjustments. Leave this workshop with the confidence to make an informed decision tailored to each's students unique situation.
*Hours can be applied as CEUs for Yoga Alliance.
LOCATION: ANCHORAGE CYCLE | 2610 SPENARD RD.
Cost: $45 *Members receive 10% off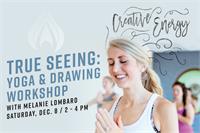 True Seeing: Yoga & Drawing Workshop

with

Melanie

Lombard

at Anchorage Yoga
Sat, Dec 8, 2018 at 2:00 pm - 4:00 pm
Join Artist and Yogini Melanie Lombard for a workshop designed to stimulate your senses, awaken creative energy, promote deep relaxation, explore perceptions, and look at things from a different perspective.During this two-hour journey, you will experience a variety of eye exercises, a gentle asana practice with emphasis on a drishti (gazing point), and meditative drawing.
Yoga and drawing go hand in hand in this process of learning to develop Right Brain thinking. For many of us, our Left Brain rules our day to day lives by keeping us logical, on time and in control of our worlds. Our Right Brain, which does much of our creative, emotional, and sentient reflection, and often gets ignored.
If you are looking to reacquaint yourself with your creative side, this workshop is a perfect place to start!
Cost: $45 *Members receive 10% off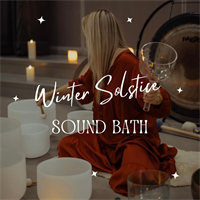 Sound Bath

with

Katey

Inman

at Anchorage Yoga
Sun, Dec 16, 2018 at 6:15 pm - 7:45 pm
Join Katey Inman for an acoustic sound healing journey that relaxes the body, clears the subconscious, calms the mind, and activates your body's energy body. This is a powerful time to set an intention, so come settle into the vibrations of singing bowls & breath, feel yourself align with your hearts deepest desires and begin to manifest your dreams.
Cost: $25
Members receive 10% off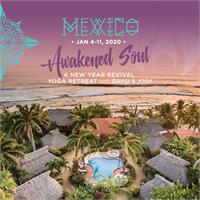 Awakened SOUL: "A New Year Revival Retreat"

with

David

Westlake

at Anchorage Yoga
Next held on Sat, Jan 5, 2019 at 4:00 pm - 4:00 pm
This
enrollment
runs from Sat Jan 5, 2019 - Sat Jan 12, 2019
Join David Westlake & Joshua Love on a week long journey to the remarkable Present Moment Retreat Center. Enjoy 7 days and 7 nights on a life affirming and soulful journey in the humbling town of Troncones, Mexico. The beaches; remote, pure and tranquil. The quiet streets and the sound of the surf will heal your body and rejuvenate your Soul. Our intention for this experience is to dive deeper into our practice with a powerful alchemy of Asana, Kriya, Pranayama, Meditation, and did we say surfing?!
The daily yogic journey will encompass all that is the 8 limb path. Mornings will begin with the practice of meditation and kriya yoga followed by optional daily surf adventures. Days will wind down with a soulful evening vinyasa flow and fireside Dharma talks.
Enjoy daily yoga and meditation practice, delicious and nutrient rich food, 5 surf lessons, and eco-chic double occupancy accommodations. Leave the drama, explore your dharma!
Limited to 16 guests as this retreat is built around intimacy and transformation.
Cost: $2,085 (Double Occupancy)
*$500 non-refundable deposit is due upon registration
This retreat has filled up quickly! Please contact Rachel rachel@anchorageyoga.com if you are interested in attending and she will register you or add you to the waitlist.
Learn more about this magical adventure here: http://anchorageyogacycle.com/mexico-2019
Click here to learn more about Present Moment Retreat Center: https://www.presentmomentretreat.com