PowerRide
This class is taught by: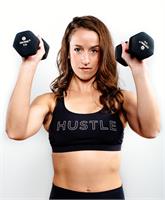 I grew up playing sports from nearly the time I could walk, and enjoyed playing soccer, basketball, tennis, and rugby throughout the years in California. I began doing yoga and strength training during my high school years, and found that the gym I attended had some great cycling instructors. I began incorporating spin classes into my workout routine until I moved to Alaska in 2008. Fast forward to 2015, when perusing Facebook I saw a post for instructor auditions being held for Anchorage Cycle. The memories of all the great classes I used to take came flooding back. I went out on a whim, prepared a short routine, and (honestly, feeling a little silly and apprehensive!) auditioned to be an instructor for Anchorage Cycle. So, here I am now! AYC has introduced me to a community of amazing people whom I am honored to ride alongside, and I could not be more grateful. The energy in the studio and the feeling of absolute elation following a ride is unparalleled!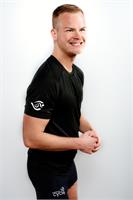 Ever since opening, I have found Anchorage Cycle a vibrant community. It has become a second home for me. I am so grateful now to be one of the Motivators and share the gift of cycle with everybody that comes to one of my classes.
I love cycle because through the busy week, a cycle class creates an opportunity for you to be in control - and will push you steps closer towards your goals. I encourage you to welcome, embrace and enjoy the challenges that come with every class. Everyone deserves to be sculpted into the person they are striving to be both outside and within. I will do my best to make my rides exciting and fun with a variety of energetic music that will make it an incredible experience helping you to burn maximum calories and tone both body and mind.
Check out one of my classes then lose your mind and find your soul.
This indoor cycling class combines expert coaching with an electrifying sound and light system to create the ultimate sensory experience. Featuring Performance IQ, your speed, power, heart rate and calories burned will be featured on two 70" screens. You'll find your limits then push beyond in this premium, "all or nothing" ride.
Upcoming classes:
Mon

Dec 17 12:00 pm - 12:45 pm

with

Courtney

Lyons




Wed

Dec 19 6:30 pm - 7:15 pm

with

Michael

Schmidt




Wed

Dec 26 6:30 pm - 7:15 pm

with

Michael

Schmidt




Mon

Dec 31 12:00 pm - 12:45 pm

with

Courtney

Lyons




Wed

Jan 02 6:30 pm - 7:15 pm

with

Michael

Schmidt




Mon

Jan 07 12:00 pm - 12:45 pm

with

Courtney

Lyons




Wed

Jan 09 6:30 pm - 7:15 pm

with

Michael

Schmidt




Mon

Jan 14 12:00 pm - 12:45 pm

with

Courtney

Lyons




Wed

Jan 16 6:30 pm - 7:15 pm

with

Michael

Schmidt




Mon

Jan 21 12:00 pm - 12:45 pm

with

Courtney

Lyons




Wed

Jan 23 6:30 pm - 7:15 pm

with

Michael

Schmidt




Mon

Jan 28 12:00 pm - 12:45 pm

with

Courtney

Lyons




Wed

Jan 30 6:30 pm - 7:15 pm

with

Michael

Schmidt




Mon

Feb 04 12:00 pm - 12:45 pm

with

Courtney

Lyons




Wed

Feb 06 6:30 pm - 7:15 pm

with

Michael

Schmidt




Mon

Feb 11 12:00 pm - 12:45 pm

with

Courtney

Lyons




Wed

Feb 13 6:30 pm - 7:15 pm

with

Michael

Schmidt




Mon

Feb 18 12:00 pm - 12:45 pm

with

Courtney

Lyons




Wed

Feb 20 6:30 pm - 7:15 pm

with

Michael

Schmidt




Mon

Feb 25 12:00 pm - 12:45 pm

with

Courtney

Lyons