PowerRide*
This class is taught by: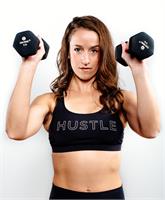 I grew up playing sports from nearly the time I could walk, and enjoyed playing soccer, basketball, tennis, and rugby throughout the years in California. I began doing yoga and strength training during my high school years, and found that the gym I attended had some great cycling instructors. I began incorporating spin classes into my workout routine until I moved to Alaska in 2008. Fast forward to 2015, when perusing Facebook I saw a post for instructor auditions being held for Anchorage Cycle. The memories of all the great classes I used to take came flooding back. I went out on a whim, prepared a short routine, and (honestly, feeling a little silly and apprehensive!) auditioned to be an instructor for Anchorage Cycle. So, here I am now! AYC has introduced me to a community of amazing people whom I am honored to ride alongside, and I could not be more grateful. The energy in the studio and the feeling of absolute elation following a ride is unparalleled!
This indoor cycling class combines expert coaching with an electrifying sound and light system to create the ultimate sensory experience. Featuring Performance IQ, your speed, power, heart rate and calories burned will be featured on two 70" screens. You'll find your limits then push beyond in this premium, "all or nothing" ride.
The early cancel window for this class is before 10pm the night before. Cancellations made after 10pm the night before are late cancellations.
Upcoming classes:
Fri

Dec 21 6:15 am - 7:00 am

with

Courtney

Lyons




Fri

Dec 28 6:15 am - 7:00 am

with

Courtney

Lyons




Fri

Jan 04 6:15 am - 7:00 am

with

Courtney

Lyons




Fri

Jan 11 6:15 am - 7:00 am

with

Courtney

Lyons




Fri

Jan 18 6:15 am - 7:00 am

with

Courtney

Lyons




Fri

Jan 25 6:15 am - 7:00 am

with

Courtney

Lyons




Fri

Feb 01 6:15 am - 7:00 am

with

Courtney

Lyons




Fri

Feb 08 6:15 am - 7:00 am

with

Courtney

Lyons




Fri

Feb 15 6:15 am - 7:00 am

with

Courtney

Lyons




Fri

Feb 22 6:15 am - 7:00 am

with

Courtney

Lyons




Fri

Mar 01 6:15 am - 7:00 am

with

Courtney

Lyons




Fri

Mar 08 6:15 am - 7:00 am

with

Courtney

Lyons




Fri

Mar 15 6:15 am - 7:00 am

with

Courtney

Lyons




Fri

Mar 22 6:15 am - 7:00 am

with

Courtney

Lyons




Fri

Mar 29 6:15 am - 7:00 am

with

Courtney

Lyons




Fri

Apr 05 6:15 am - 7:00 am

with

Courtney

Lyons




Fri

Apr 12 6:15 am - 7:00 am

with

Courtney

Lyons