Pop-up Ghosh Intermediate Hot Yoga
This class is taught by: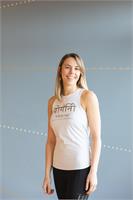 I'm an active person who spends a lot of my time outside. Growing up I was a dancer and a gymnast until I realized the damage I was causing to my joints. I was challenged by my best friend to take my first Bikram Yoga class back in 2006, and after a couple of classes I fell in love with the practice; I could feel the difference in my body and joints. I attended the Bikram Yoga Teacher Training Program in L.A. in the fall of 2012 and ever since, I've been sharing my learnings and practice with students. I've studied Health Science and Human Anatomy which influences my teachings as I focus on the alignment and structure of the body throughout my practice. My classes are fun and happy and I'm always here to encourage, teach, and discuss yoga with anyone; novice to experienced.
Ghosh Yoga uses simple therapeutic exercises to mobilize and strengthen every area of the body, from the eyes down to the toes, including the internal organs and systems. This style of yoga uses postures (asanas) to bring grace and control to the body and stillness to the mind.