Hands On Assist Workshop
This class is taught by: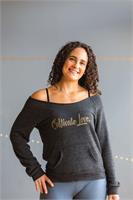 Leah's yoga practice began in 2007, but it wasn't until 2009, as she searched for purpose and deep-seated fulfillment in her life, did she get a taste of the limitless and infinite possibilities that all aspects of yoga can offer. Leah completed a 300-hour yoga teacher training and Thai massage certification program in Nepal in 2010 with Yogi-Nomad, a non-profit organization dedicated to expanding consciousness through yoga worldwide. Leah loves to travel because it allows her to step outside her comfort zone (which is expanding drastically with every new experience and discovery), however, yoga has revealed the age-old concept that true happiness and inner peace must stem from within. Not only is yoga guiding Leah to develop a deeper understanding of herself, but more than anything, it is bringing awareness to the subtleties in life and about being in the PRESENT MOMENT. By being here and now, conversations are richer, connections with friends and strangers are fuller and more colorful, and through constant cultivation of self-love, the she is able to share her positive energy with others every day. Leah's classes incorporate creative and dynamic movement for students to explore their body and mind. She encourages students to extend the lessons learned on the mat and apply them to their everyday lives. When it comes down to it, yoga should be fun and feel GOOOOD from the inside out.
Assisting is the ultimate way to be of service to your students and put loving-kindness into practice. A purposeful assist can help ground a student and enhance how they feel in the posture.

In this Hands-on Adjustments Workshop, we will illuminate the big picture of why, when, and how to apply hands-on adjustments, while learning foundational concepts for safe and intentional hands-on adjustments. Leave this workshop with the confidence to make an informed decision tailored to each's students unique situation.
*Hours can be applied as CEUs for Yoga Alliance.
LOCATION: ANCHORAGE CYCLE | 2610 SPENARD RD.
Cost: $45 *Members receive 10% off