Katey Inman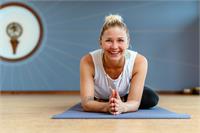 (E-RYT 500) Katey Inman, co-owner and director of Anchorage Yoga, has practiced and studied Yoga for over two decades. While living in Arizona, she trained with Anusara teachers Jordan and Martin Kirk completing her first 200-hour Yoga Alliance® Teacher Training at At One Yoga. Upon completing her training she traveled to Auro Valley Ashram in India to further her studies. Soon after she returned from India Katey knew that Yoga had become a path for her rather then a practice.

Over the years Katey has studied various schools of yoga and developed a love affair with the Philosophical teachings of Tantra. Most recently she has had the privilege to learn from a true Guru and credits her time with Dharma Mittra as life affirming and profoundly transformational. As a massage therapist Katey weaves her passion for anatomy into each of her classes and has developed her own methodology of teaching that encompasses her love for all things Yoga. Katey encourages her students to challenge themselves from a place of compassion, practice with purpose, and follow to the powers of divine intuition.
Pranam to those who have illuminated my path: Jordan and Martin Kirk, Lisa Goodwin, Satya and Ani Love, Dain Inman, Tias and Surya Little, Ram Das, Krishna Das, David Rominelli, Hareesh Wallis, Lynn Minton, Sri Dharma Mittra, Nicki Doane and all the students who have come through our doors at Anchorage Yoga.
Katey Inman instructs the following:
All levels. 60 min version of our Signature Class! Hot Flow is a dynamic vinyasa style practice that combines elements of Bikram, Anusara, Kundalini and Ashtanga Yoga. This "perfect" combination of balancing, strengthening, energizing and deep stretching poses set to music and practiced in a room heated to 95°. This class is appropriate for newcomers as well as the more experienced yogi. From head to toe your body will feel invigorated and detoxified while you sharpen your mental focus and renew your spirit. Be prepared to SWEAT!




(level 2/3) Our flow (or vinyasa) style class has an emphasis on alignment and creative in nature. All of our flow classes are inventive and thoughtfully sequenced. Rooted in the foundation of Ashtanga you will experience sun salutations, standing & seated postures, back bending, inversions, and arm balances. We guarantee you will leave this class feeling strong in both body and mind. Enliven your mind, lift your spirit, and be ready to explore your edge!

*Level 2/3 is for students with a regular yoga practice.




All levels. Our signature class! his alignment-based vinyasa (or flow) class is rooted in the tradition of classical Hatha yoga, infused with a touch of heat and linked together with fluid transitions. Designed to be similar or the same sequence every class it is perfect for beginners. From head to toe your body will feel invigorated and detoxified while you sharpen your mental focus and renew your spirit. Be prepared to SWEAT!




Coming together as a community to bring a little light into the lives of others!

Join Katey Inman & Sarah Glassett at Church of Love for a 2 hour practice embracing the darkness and celebrating the light.

This is a donation only based class and open to the public. All proceeds go to Clare House.

Ticket price: $20 cash or check night of event, or credit card to be charged at Anchorage Yoga.




Join Katey Inman & Sarah Glassett for our 8th annual Winter Solstice practice as we embrace nature's darkness and celebrate the returning light. Come ready to practice deeply and intensely on your mat, sing, dance, and celebrate the solstice in an incredible way. Participate in some or all of the salutations, or just sit and breathe with us.

To sign up go to our workshop page! Spots are limited, so we appreciate you signing up in advance.

Thank you!




(level 2/3) Breathe.... Move.... and Sweat your way through this soulful vinyasa class! With sweet tunes and less verbal cues, you can dance your way from one pose to the next and top it off with 30 minutes of deep stretch. Be prepared for some mind-massagin', body-stretchin' peace-providin' BLISS.




(all levels) Deep Stretch is different from most traditional classes in that we don't explore any standing postures. Remaining close to the floor allows you to penetrate deep beneath the surface of your body. Long, slow, deep stretching allows you to unlock and release enormous amounts of tension. This class focuses on relaxing into the realm of your hips and shoulders and is often supported by the use of blocks and straps. Sweet Bliss! Sunday's class is 90 minutes.