Nafisa Abdul-Jillil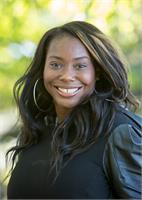 Nafisa Abdul Jillil was born and raised in Anchorage Alaska, she graduated from East Anchorage High School 1995. Nafisa moved to Los Angeles in 1997 Danced Professionally for Eight Years with many different Artist Ranging from Janet Jackson, Brittney Spears, Tina Turner and Usher. I began to practice Bikram Yoga in December of 2003 learning about it on a Dance Job I was working on with NIKE Athletics. My First class was tough so I knew I had to do it again. I loved the fact of you didn't have the choice or option to Quit! Just you, your mat and Towel and Breath. I went to Teacher Training Spring 2007 In Hawaii and it was Amazing. Started teaching right away at all the Top Studios in Los Angeles Bikram Headquarters, Studio City and Bikram Pasadena. I have attended many seminars and classes with Bikram and Rajashree Choudhury, Emmy cleaves and Craig villain. I love teaching because I love working with people to achieve their goals of being FOCUSED, HAPPY, HEALTHY AND BALANCED!
Nafisa Abdul-Jillil instructs the following:
(all levels) Based off of the Bikram series of 26 poses and two breathing exercises practiced in a room heated to 102. The heat and humidity allow for the body to stretch more deeply and safely, increase circulation to facilitate the body's natural ability to heal, and helps us detoxify. It systematically stimulates the organs, glands, and nervous system and moves freshly oxygenated blood to 100% of the body.




All levels. Our 60-minute version of the classic twenty-six postures and two breathing exercises. This class helps to strengthen the mind as well as shape, sculpt, and heal the body. Designed for beginning thru advanced yoga students, we practice in a room heated to 102°. The heat allows you to work deeper into the muscles increasing flexibility, cardiovascular endurance, and muscular strength.