Daniel Ward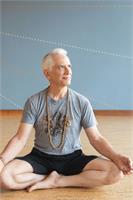 I began my personal Yoga practice as therapy for injuries that were occasionally debilitating. My mother had introduced me to Eastern Spiritual ideas, including yoga, in my youth, so Yoga was where I turned when nothing else worked. My teachers have been Bruce & Karen Greenwood, Tom Light, Rick Resnick, Katey Inman, Linda Spackman, Surya Little, and Tias Little.
In May of 2011 I completed a 200 hour Teacher Training Program @ Anchorage Yoga and am now working on my 500 hour certificate with Tias and Surya Little (Prajna Yoga).
Over the years, as instruction improved my practice, the inspiration I have found in the deeper aspects of yoga has dramatically improved my quality of life. My experience has made me a firm believer in the Yoga's power to heal and strengthen bodies, to open hearts and transform lives.
I enjoy the meditative aspect of asana, experiencing inner stillness as the body forms the asana. In this practice I have learned to work with the energy of my body, accessing it to find the fullest expressions of each pose and the stillness that resides within. Join me as we mindfully renew our health and vigor and enjoy more deeply our own inner peace and wisdom.
Daniel Ward is currently not instructing any classes.