Kerry Wilson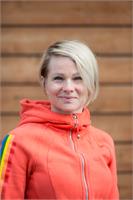 Slowing down takes effort. After a lifetime of curiosity and exploring Alaska, Kerry's continuing to find balance between strength and flexibility, push and pull, and control and let-go. Kerry's 16-year yoga practice has helped her with that journey. In 2012, Kerry completed Anchorage Yoga's 200-Hour Teacher Training. She continues to practice daily so she can do the things she loves: snowboarding, biking, hiking, running, and keeping up with her two boys.
Kerry's deep Alaska Native roots keep her here. The mountains and oceans bear many family stories. The valleys are deeply significant to her understanding of the world and her personal identity. However, she can do without Alaska's long nights. Yoga makes her feel better, it brings the sunshine back.
As someone who loves learning new things, the dancer in her loves to teach creative, intelligent sequences.
Kerry Wilson instructs the following:
(level 1/2) This vinyasa (or flow) style class has an emphasis on alignment and creative in nature. Our flow classes are inventive and thoughtfully sequenced. Rooted in the foundation of Ashtanga you will experience sun salutations, standing & seated postures, back bending and inversions – guided by a slow and steady breath. *Newer students receive extra support and attention in our level 1/2 classes.




All Levels: While this class emphasizes the fundamentals of a basic asana practice. Continuous movement and correct alignment, combined with connection to breath is emphasized by the instructor. This class is great for new comers, as well as those looking to strengthen the foundation of their practice. Come open your body, unfold your breath and awaken your inner Radiance.




All levels. 60 min version of our Signature Class! Hot Flow is a dynamic vinyasa style practice that combines elements of Bikram, Anusara, Kundalini and Ashtanga Yoga. This "perfect" combination of balancing, strengthening, energizing and deep stretching poses set to music and practiced in a room heated to 95°. This class is appropriate for newcomers as well as the more experienced yogi. From head to toe your body will feel invigorated and detoxified while you sharpen your mental focus and renew your spirit. Be prepared to SWEAT!