Bonnie Easley-Appleyard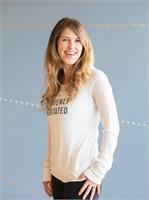 Throughout my life I have dreamt big, living in Florida and Hawaii training and caring for dolphins and sea lions. I continued to dream big in Alaska doing sea otter, beluga whale, and polar bear research. Then one day I tried yoga and my dreams grew even bigger. I was hooked on feeling completely refreshed and rejuvenated both mentally and physically. I decided I wanted to expand my knowledge in this unfamiliar world and signed up for a 200-hr yoga teacher training at Anchorage Yoga. Throughout my teaching I have explored intellegent creative sequencing making each class unique. Helping students understand their own bodies through both challenging and restorative poses. I'm still in awe when I see the constant growth of flexibility, strength, and stability I see within students and in myself. I carry my yoga practice throughout my daily life and continue to dream big in the dreams of the known and unknown.
Bonnie Easley-Appleyard instructs the following:
(level 2/3) Yoga Sculpt is a total body workout designed to tone and sculpt every major muscle group. Free weights serve as your own personal adjuster as you move through sun salutations and other yoga postures, enabling extra length and depth in each pose. This intense, but easy to follow class complements your regular yoga practice while pushing your strength and flexibility to new heights. A fun way to mix up your Yoga practice! (85°)




(level 1/2) This vinyasa (or flow) style class has an emphasis on alignment and creative in nature. Our flow classes are inventive and thoughtfully sequenced. Rooted in the foundation of Ashtanga you will experience sun salutations, standing & seated postures, back bending and inversions – guided by a slow and steady breath. *Newer students receive extra support and attention in our level 1/2 classes.