Sara Forbes Hall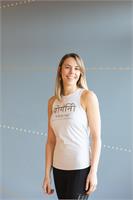 I'm an active person who spends a lot of my time outside. Growing up I was a dancer and a gymnast until I realized the damage I was causing to my joints. I was challenged by my best friend to take my first Bikram Yoga class back in 2006, and after a couple of classes I fell in love with the practice; I could feel the difference in my body and joints. I attended the Bikram Yoga Teacher Training Program in L.A. in the fall of 2012 and ever since, I've been sharing my learnings and practice with students. I've studied Health Science and Human Anatomy which influences my teachings as I focus on the alignment and structure of the body throughout my practice. My classes are fun and happy and I'm always here to encourage, teach, and discuss yoga with anyone; novice to experienced.
Sara Forbes Hall instructs the following:
All levels. Our 60-minute version of the classic twenty-six postures and two breathing exercises. This class helps to strengthen the mind as well as shape, sculpt, and heal the body. Designed for beginning thru advanced yoga students, we practice in a room heated to 102°. The heat allows you to work deeper into the muscles increasing flexibility, cardiovascular endurance, and muscular strength.




(all levels) Based off of the Bikram series of 26 poses and two breathing exercises practiced in a room heated to 102. The heat and humidity allow for the body to stretch more deeply and safely, increase circulation to facilitate the body's natural ability to heal, and helps us detoxify. It systematically stimulates the organs, glands, and nervous system and moves freshly oxygenated blood to 100% of the body.