Sara Villafuerte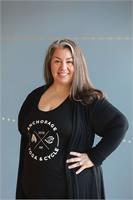 I started practicing yoga in 2012 at Anchorage Yoga. I knew after my first class that my life was never going to be the same. My yoga journey will be life long and has been the most humbling yet uplifting experience that is always growing and ever changing. I attended Anchorage Yoga Teacher Training in 2013 to deepen my personal practice and understanding of yoga. In July and August of 2015, I completed Sterling Hot Yoga Works Teacher Training in Puerto Morelos, Mexico. The community at Anchorage Yoga is amazing, like nothing I have ever experienced. The love and support I have from everyone, including teachers and students, is unparalleled. Yoga fills my cup when I am empty and allows me to give more of myself to my family and be a better mom. Yoga continually helps me find balance in my body, mind, and soul and has taught me always to try and just be present in the moment.
Sara Villafuerte instructs the following:
(all levels) Based off of the Bikram series of 26 poses and two breathing exercises practiced in a room heated to 102. The heat and humidity allow for the body to stretch more deeply and safely, increase circulation to facilitate the body's natural ability to heal, and helps us detoxify. It systematically stimulates the organs, glands, and nervous system and moves freshly oxygenated blood to 100% of the body.