Jess Young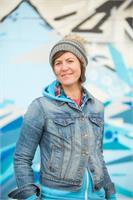 Jess is a scientist, certified yoga instructor, AASI Level II snowboard instructor, and unapologetic fan of terriers with short legs. Her background is an alignment-based vinyasa with a focus on anatomy, biomechanics, and the traditional practice of yoga. She uses this to in her classes to create a calm, accessible approach to both the yin and yang practice. In the world she finds the yogic connection in fresh lines down a mountain, a walk in the woods, paddling through the water… She continues to be inspired by Tiffany Cruikshank, Kathryn Budig, Giselle Mari, the local yoga community, and the big, wide world around her.
Jess Young instructs the following:
(all levels) Deep Stretch is different from most traditional classes in that we don't explore any standing postures. Remaining close to the floor allows you to penetrate deep beneath the surface of your body. Long, slow, deep stretching allows you to unlock and release enormous amounts of tension. This class focuses on relaxing into the realm of your hips and shoulders and is often supported by the use of blocks and straps. Sweet Bliss! Sunday's class is 90 minutes.