Michelle Sasse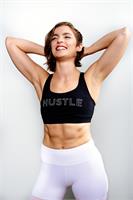 Growing up in Nebraska I learned how to work hard and play hard. I'm a cornhusker at heart but I was drawn to Alaska for its beauty and adventure. I'm a dental hygienist by day and a fitness fanatic by night. From the time I moved to Alaska, Anchorage Yoga Cycle has been my outlet, my escape, and my bliss. The energy of the studio and the humans that I surround myself with fuel me daily. I'm ready to give back. I'm ready to show you vulnerability, empowerment, confidence, and happiness, all because that has been my ongoing journey with AYC and I hope you too can embark on your own journey and take what you need from us. I let my action come before my fear when I decided to become a Motivator to give you one sexy, sweaty, and sassy ride.
Michelle Sasse instructs the following:
Our signature ride is a fun, high-intensity and low-impact cardio party! Our expert motivators create challenging, exhilarating rides featuring indoor cycling techniques combined with upper body hand weights. Choreographed to the rhythmic beats of energetic, uplifting music, you'll stay motivated to reach your fitness goals. BEWARE. . .this 45-minute class may change your body and your life.