Jen Evanson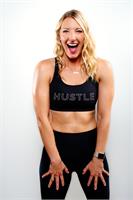 Last year my life took an unexpected turn and I found myself floundering for guidance. I felt like the wind was knocked clean out of me and I was left with only broken pieces of my heart to scoop up and reassemble. Thankfully, that's when AYC stepped in. I'd been a member of Anchorage Yoga for a few years, casually dipping my toes into the world of yoga, feeling that calming high after a really deep session, yet needing something more. More movement, a way to burn through old stagnant energy, something that made me feel revived. When Anchorage Cycle opened I was immediately drawn to the high-energy super-charged dance party that is OneRide and in class I envisioned myself teaching.
With a background in energy work as a Master Level Reiki Practitioner I knew there was magic in this movement. After every class I felt lighter, clearer, and more grounded. Now, after a year of diligent attention to my own healing through cycle I feel completely renewed. I found my vision of teaching realized on-stage, heart-open, ready to give you all that I've got. So if you're ready to heal, find yourself, discover your true potential, or just get a good ol' sweat on, with open arms I am ready for you...let's do this.
Jen Evanson instructs the following:
Our signature ride is a fun, high-intensity and low-impact cardio party! Our expert motivators create challenging, exhilarating rides featuring indoor cycling techniques combined with upper body hand weights. Choreographed to the rhythmic beats of energetic, uplifting music, you'll stay motivated to reach your fitness goals. BEWARE. . .this 45-minute class may change your body and your life.