Mandy Morell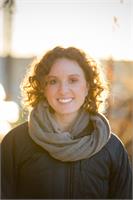 For the past year Mandy has been finding her yoga legs on the high seas aboard a Norwegian tall-ship, which was circumnavigating the globe! Daily practice and a weekly yoga club for the students gave her a new respect for standing postures and patience. Prior to this she was teaching yoga in Kathmandu, Nepal, but her love of yoga began in a hot room on a cold night in at Anchorage Yoga. She took her first yoga class in 2009, but didn't really discover her love for the practice until her high school students convinced her to start a yoga club in 2010. This was her first yoga family.

She received her 200 hour teacher training in the beautiful city of Rishikesh, India, on the holy River Ganges, and has had the gift of practicing with people from all over the world throughout her travels. Mandy brings her high energy and her love for music into her classes, creating a dynamic rhythm to the practice. Mandy believes yoga is integral for physical and mental health, and believes in the power of yoga to rehabilitate. She hopes her students enjoy a good sweat and allow themselves to laugh out loud in each class.
Mandy Morell is currently not instructing any classes.