Nicole Staker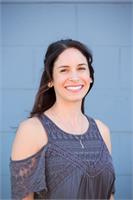 For years, I dabbled in various types of yoga, taking classes here and there but never consistently. After moving to Alaska from California, I grew to enjoy hiking and running but soon realized that I needed to challenge myself with something totally new and different. I took my first Bikram class at Anchorage Yoga and immediately fell in love.
I completed Yoga Teacher Training through Anchorage Yoga in Spring 2017 and continue to seek learning opportunities and experiences. I truly believe that it is through the beginner's mind that we find the most opportunity for growth.

Yoga has taught me that vulnerability opens our bodies, hearts and minds in a way that is unparalleled and learning this has changed me from the inside out. I hope to share my love of life and yoga with fellow yogis and students both in and out of the studio.
Nicole Staker instructs the following:
(all levels) Based off of the Bikram series of 26 poses and two breathing exercises practiced in a room heated to 102. The heat and humidity allow for the body to stretch more deeply and safely, increase circulation to facilitate the body's natural ability to heal, and helps us detoxify. It systematically stimulates the organs, glands, and nervous system and moves freshly oxygenated blood to 100% of the body.




All levels. Our 60-minute version of the classic twenty-six postures and two breathing exercises. This class helps to strengthen the mind as well as shape, sculpt, and heal the body. Designed for beginning thru advanced yoga students, we practice in a room heated to 102°. The heat allows you to work deeper into the muscles increasing flexibility, cardiovascular endurance, and muscular strength.