Kelsey Cunningham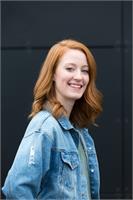 I am an Alaskan girl born and raised! I love being outdoors and spending time being active. I found yoga in September of 2016 when I was needing something more then just getting a workout in everyday. After my first yoga class at Anchorage Yoga I was addicted to the mental and physical release the practice provided me. Once I discovered Hot Flow and got my sweat on, I was hooked even more. I never thought in my wildest dreams teaching yoga was something I would do with my life, but when I saw the Teacher Training information at the studio I knew I had to do it no matter how far outside of my comfort zone it pushed me. I love yoga because it's a way of life and not only provides me with a healthy lifestyle, but it provides me with abundance in all aspects of my life. I am so thankful to start my journey as a teacher at AYC and show the love I feel from the studio to the community.
Kelsey Cunningham instructs the following:
Kids Yoga is a fun-filled yoga experience specifically designed for kids. In our fun environment children play in yoga by imitating animals and nature, using creative expression, games, music, and storytelling. Classes will help develop physical strength and flexibility, concentration, focus and attention, inner strength and body awareness, confidence and self-esteem, relaxation and self-control, and a feeling of well-being and respect for others.




Our Kids Yoga program, for 6-9 year olds, is designed to help support mind and body awareness and development. Yoga can benefit this specific age-group in many ways, including developing inner and outer strength, a sense of confidence and self-esteem, a deepened respect for self and others, and an overall sense of well-being.

Our instructor will teach various yoga poses and stretching exercises to help the kids improve strength, flexibility, movement integration and coordination. Breathing and visualization techniques will be utilized to increase relaxation and concentration, while learning methods of self-discipline and control.