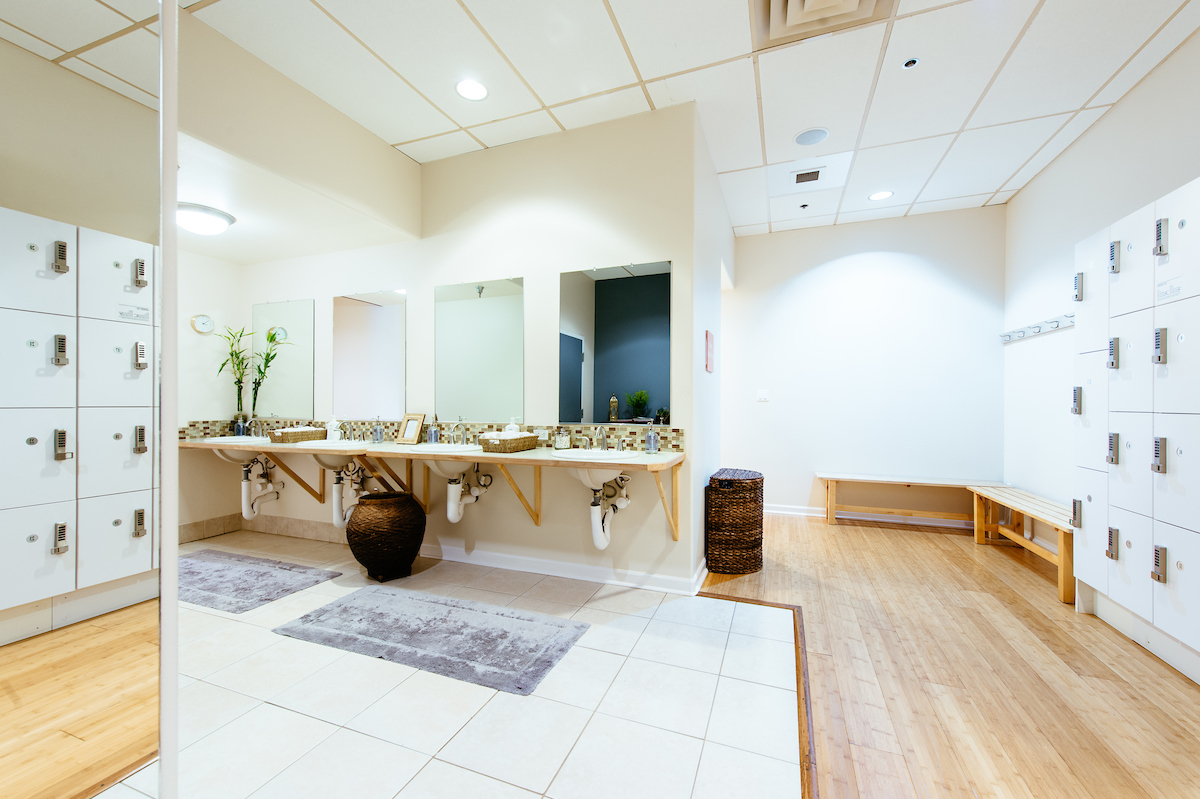 WHAT MAKES OUR CLASSES DIFFERENT FROM CLASSES OFFERED ELSEWHERE?
Just about everything! Katey Inman and Joshua Love co-founded Anchorage Yoga, LLC in 2009. After years of traveling around the country practicing yoga and working out, Katey and Josh became determined to find the perfect mix of beautiful construction and outstanding instruction as inspiration for their dream of opening a contemporary "best-in-class" yoga studio to Anchorage. Anchorage Yoga was born of the idea that yoga could be fun and for everyone. The more vigorous, or Hot, styles of practice could be done in a safe environment with the highest quality instruction, facilities, and even air to breath.

All of our teachers have a minimum of 200 hours education in Yoga Alliance approved teacher training courses from around the globe.

Although we are family owned and operated our teachers, and our staff make this studio. We are a community committed to your health and fitness goals. You will find that at Anchorage Yoga we celebrate and welcome all ages, shapes, and fitness levels to practice with us.


I'VE NEVER DONE YOGA. WHAT CLASS IS RIGHT FOR ME?
We love new students and take pride in our ability to skillfully modify the practice for each student's needs. All of classes are split between two primary styles, consistent poses or vinyasa based (flow-style), but vary in intensity based on the class name and teacher. Our hot lineage classes, Hot Yoga, Hot 26 and Hot Flow, are perfect for beginners.

If heat is not your thing, don't worry we've got you covered. For all of you fitness buffs… try AY Flow 1, AY Flow 2, or Bliss. If you need a good stretch and want to decompress, try Deep Stretch. If you're like, "What's Down Dog" then our signature Hot Flow or Gentle class would be a perfect place to start. We truly offer a class for everyBODY.

We are happy to suggest a class for you based on personal needs and your current fitness level… just give us a call or stop by!



WHAT IF I'M NOT FLEXIBLE?
YES! Saying you can't do yoga because you aren't flexible is like saying you're too dirty to take a shower. Flexibility is something you will gain through yoga practice. You do not have to be flexible to practice yoga. Whether you can touch your toes or not, the ultimate benefit of yoga is to harmonize body, mind and spirit in a healthful physical practice.



WHAT IF I AM INJURED OR HAVE A CHRONIC ILLNESS, CAN I STILL DO YOGA?
We believe that yoga has transformative powers and is appropriate for everyone as long as modifications and personal needs are taken into consideration. Our mission is to be supportive of each student and their personal goals. Always inform your teacher of any illnesses or current/past injuries that you are presently managing. Our teachers will skillfully assist you in modifications and posture suggestions during class. This will be a collaborative effort as we believe that each individual must take responsibility for their health and personal needs during each and every class. Remember it is YOUR practice… the teacher is merely guiding you through the postures with skill and compassion.



WHAT ARE SOME OF THE BENEFITS OF HOT YOGA?
Hot Yoga practice is stimulating and cleansing on many levels. There are several benefits including stress reduction, increased blood circulation that stimulates the heart to strengthen its contractions, which is an exercise for the heart muscle itself. As a result, the heart pumps efficiently thereby lowering blood pressure.

Hot Yoga also improves flexibility and strength. After class, you will feel energized, rejuvenated, and cleansed. In essence, the heat is a form of cardiovascular conditioning. The heat aids in detoxification, increases blood flow to speed up metabolic processes of vital organs, glands, and mobilizing toxins for elimination. Heat stimulates fat receptors, activating fat stores and facilitating fat loss and releasing these fat-soluble toxins. Additional responses of the heat include the stimulation of white blood cell production, boosting the immune system, promoting relaxation, and an increase in healing injuries and disease symptoms. Overall, the body's response to heat strengthens, detoxifies, and heals, which in turn creates a sense of health and well-being.



HOW OFTEN SHOULD I PRACTICE?
It is safe to practice every day! We suggest three times per week minimally… sometimes you will need more and some weeks you may find that three times is a perfect amount. However, if you live a busy life, like most of us, once a week is better than nothing!

Ideally we grow into a daily yoga practice… on and off the mat and our yoga becomes a way of life. At Anchorage Yoga, we truly believe that a consistent practice can create a transformation of body and mind over time.



SHOULD I EAT BEFORE CLASS?
We highly recommend you avoid eating a large meal before practicing. A small meal or snack (a piece of fruit, almonds, smoothie) 2-3 hours before class is ideal. As always, listen to your body and honor any specific dietary needs you may have. Eating too much or too little before practice can often lead to nausea, fatigue, and light-headedness.



WHAT SHOULD I BRING WITH ME?
Bring your bad-ass self and a water bottle! A positive attitude and hydration are key to a successful practice. We have a water bottle filling station and provide towels to wipe off your sweat. Trust us: you'll need one of these (or three!).


HOW ABOUT WATER?
Yes please! It is best to consume ample amounts of water before and after your yoga practice. AYC has an awesome filtered water station so you can bring your favorite water bottle with you.



SHOULD I SIGN UP ON-LINE TO RESERVE MY SPOT?
This makes us very happy indeed and while it is not currently required, it is a highly recommended. During the cooler months most classes meet our capacity. Signing up online will be critical to ensure that you have a space reserved for your desired class. Our scheduling system is called MINDBODY and allows clients to create an online account, sign up for classes and workshops and even pay ahead of time. It is our pleasure to take care of this for you at the desk, so don't feel stress or pressure if online scheduling makes you feel anxious…we are always here to help!



WHAT IF I NEED TO CANCEL MY CLASS?
No problem! We have a 2–hour cancellation policy. That means you can cancel up to 2 hours before the class start time. If you do not cancel 2 hours prior to the start of class package holders will lose a class, and members will be charged a discounted fee of $10. If you are attending a 6 am Yoga class, the waitlist will freeze at 10 pm the night before. If you cancel after 10pm the night before class, it is considered a late cancel and you will be charged or forfeit a class.
If you have trouble canceling or have any questions, please contact the studio. We understand life happens so each client will receive one courtesy cancel.



IF I MISS MY CLASS, CAN I TAKE ANOTHER CLASS WITHIN THE SAME DAY AND NOT BE CHARGED?
If you call Anchorage Yoga to cancel your class 30 minutes prior to the start of the class, we will allow you to take another class within the same day for no charge! However, if you are a 'no show' or if it is within 30 minutes of the start time, you will lose the class you were signed up for.



HOW DOES THE WAITLIST WORK?
We know the feeling...the class you want is FULL. But have no fear...the waitlist works! If a spot isn't available for the ride you want, join the waitlist. As spots open up, available clients are added to the class in the order that they signed up. You must first have a class package or membership to join the waitlist. When a spot does become available, you'll receive an email confirmation. It's important to note that adds happen automatically up to 2 hours before class. We assume you want to take every class you're waitlisted. If you no longer wish to practice it's important that you remove yourself from the waitlist. If you don't remove yourself from the waitlist, you may automatically get added to the class after it's too late to cancel without penalty. You can remove yourself from the waitlist online, using our app, or by calling the studios.



WHAT HAPPENS IF I AM LATE TO A YOGA CLASS?
When a class begins, if you are not present at the studio five minutes prior to the class start time, your mat space will be given to a waiting customer. Under all circumstances, there will be NO ADMITTANCE to class after 5 minutes for your safety and to prevent disruption to others. First-time guests who arrive late to class will not be admitted under any circumstance.



HOW DO YOU FEEL ABOUT CELL PHONES?
We love our cell phones but not as much as we love our yoga. At Anchorage Yoga, we have a strict "no cell phone" policy. If you are anticipating an emergency call, please leave your phone with our front desk staff and they will notify you in the event of an emergency.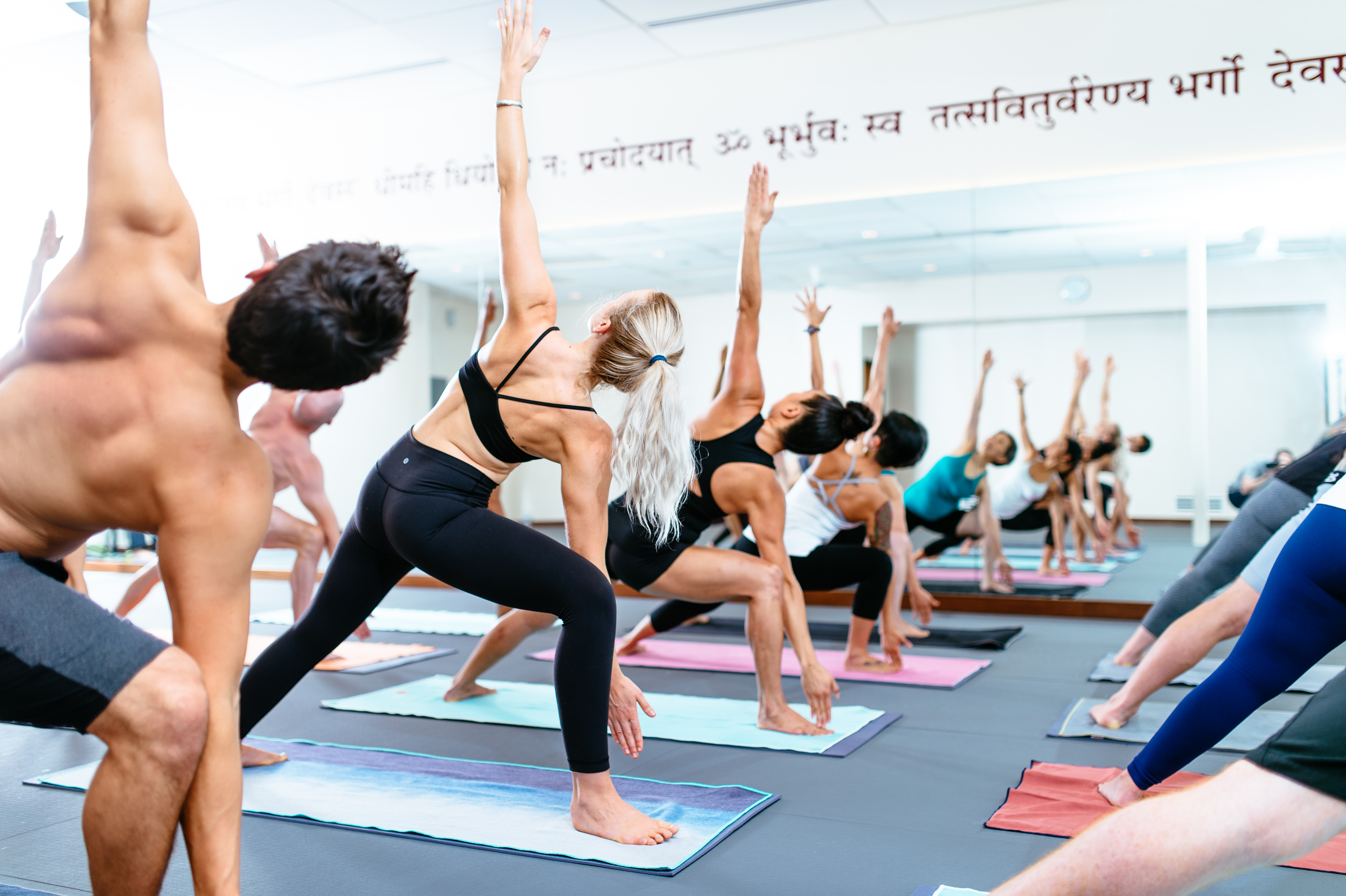 WHY ARE SOME CLASSES PRACTICED IN A HEATED STUDIO?
Yoga was developed in India, a country that sustains relatively high temperatures year-round. In order to mimic that intended environment, external heat can be viewed as essential. The heated room initially serves to prevent injury until the practitioners learn to generate their internal heat and gradually come to welcome the warm environment as a tool for enhancing flexibility and deepening an awareness of breath. Beyond the physical implications, environmental heat acts as a powerful and tangible psychological force that compels students of all levels to overcome attachment to external distractions. This enhances the practice of meditation, considered the primary vehicle for self-realization in Patanjali's Yoga Sutras.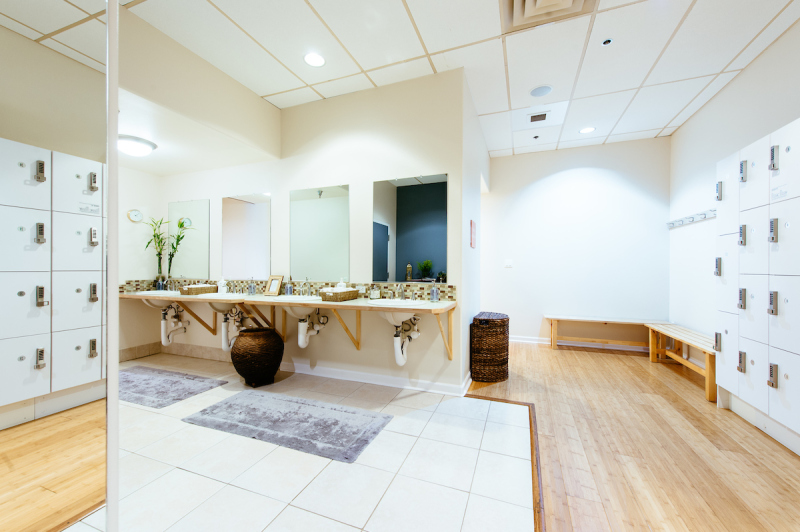 DO YOU HAVE SHOWER FACILITIES?
YES! We have clean and spacious changing rooms with toilets, showers and lockers. We even provide towels, tampons, hairdryers, razors and q-tips. We want you to leave shining from the inside out!
CAN I TAKE AN CLASS IF I'M PREGNANT?
Doctors are hesitant to recommend starting a new workout while pregnant. If you have questions about starting a yoga practice, please consult your physician. If you are continuing your practice while pregnant, please listen to your body. Our teachers are good at what they do. However, they are not OBGYN's or midwives.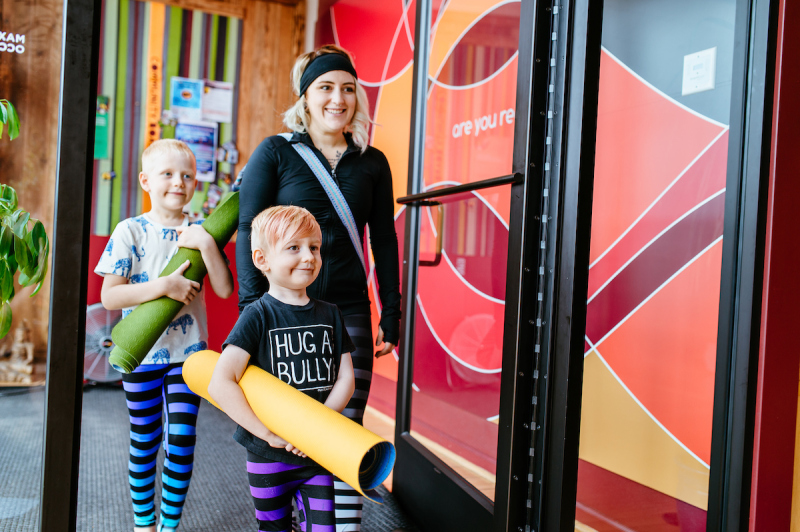 CAN KIDS DO YOUR YOGA CLASSES?
Yoga is a great practice for any age. However, our HOT classes are NOT the ideal practice for children as their risk for heat-related injury is increased. Our policy asks that you refrain from bringing anyone under the age of 12 years old to our HOT yoga classes. Anyone under the age of 18 years old will be required to have a signed waiver from an adult. We currently offer classes for children ages 3-6 and 6-9 that coincide with some of our adult classes. Children 10 and up can attend any of our non-heated classes if accompanied by a parent or guardian.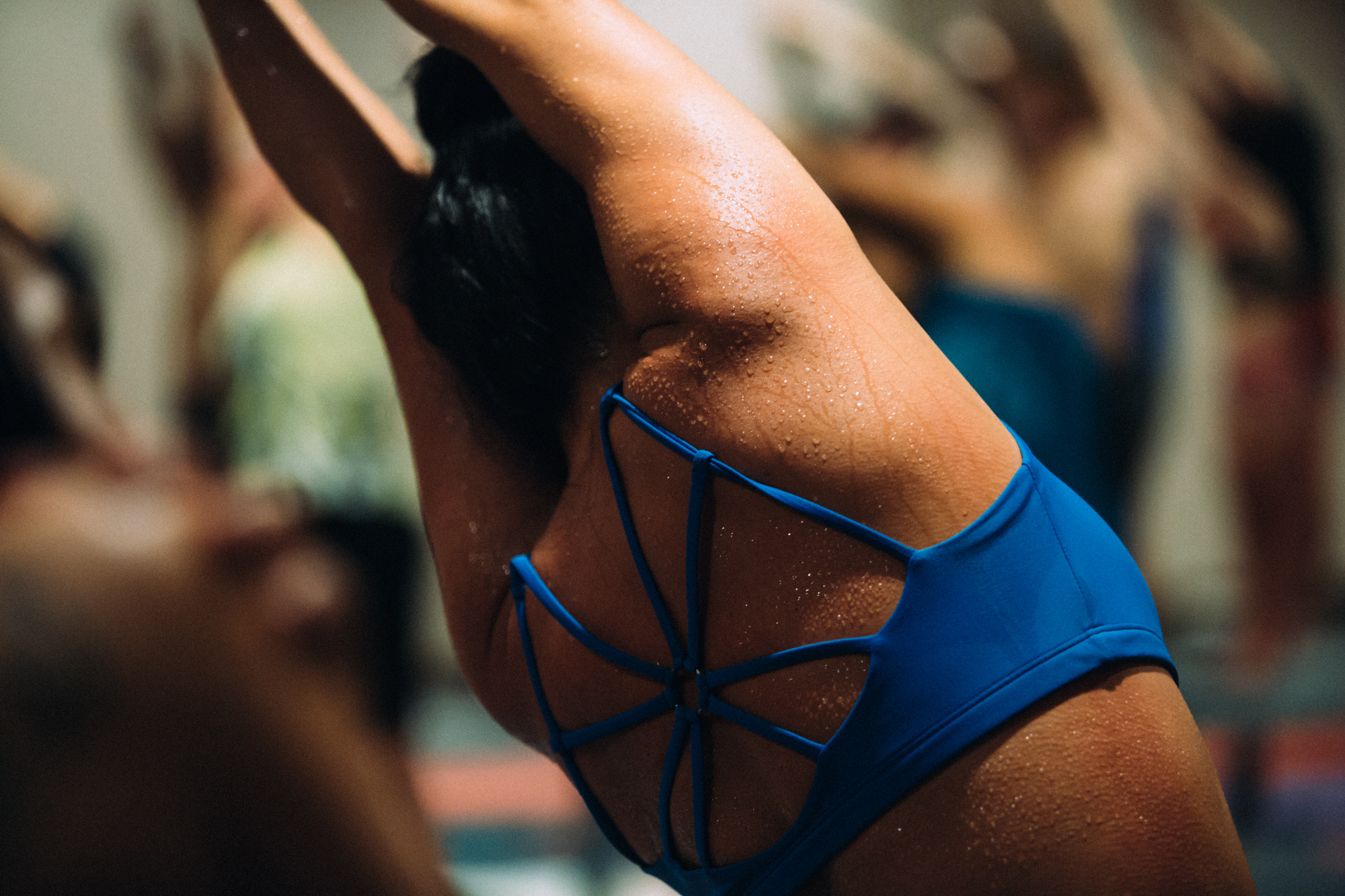 WHAT IS THE 30-DAY CHALLENGE?
The 30-Day Yoga Challenge is your journey of personal transformation. At AY we are dedicated to helping you achieve results - whether it is to cleanse or detoxify your body or stimulate your metabolism, or contribute to a healthy weight loss. We want you to experience the amazing physical, mental, and physiological benefits of a daily practice! The intent of this journey is to complete 30 classes in 30 days but we understand that "life happens"; therefore, you can miss up to two days and make up for those missed days by doubling up on your practice at another time during your 30-Day Challenge. The challenge is ongoing, so you may start at any day of the week throughout the year, and remember - it's your "part-AY" so the only requirement is your willingness to commit!